Due to ongoing maintenance and monitoring activities around the radar tower, the following areas at Mount Umunhum are temporarily closed:
The area surrounding the base of the radar tower and pathways leading to the area
The hiking only section of the Mount Umunhum Trail between the East Summit and Trailhead Shelter Area
The Mount Umunhum parking lot, trailhead shelter, stairs to the summit, west loop trail, summit shelter and trail to the Bald Mountain staging area all remain open.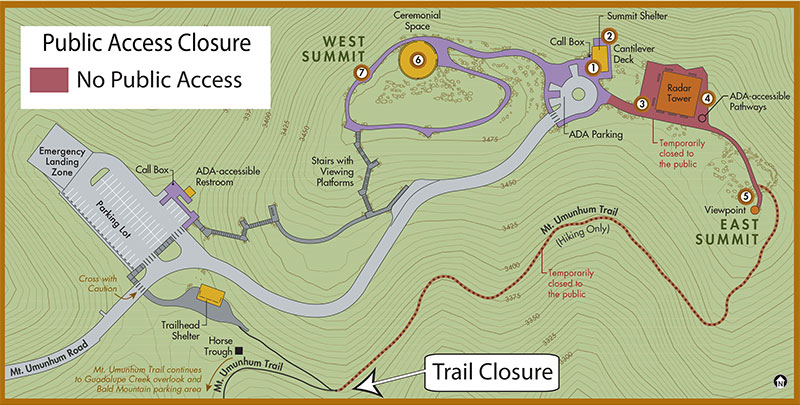 In November 2017, small flakes of paint containing low levels of lead were discovered near the Mount Umunhum radar tower. Out of an abundance of caution for the safety of the public, the area surrounding the base of the radar tower and pathways leading to the area are temporarily closed to public access.
More Information
Rain and wind events in November 2017 appear to have caused small flakes of paint to shed off the radar tower. These paint chips were tested and found to contain low levels of lead.
Lead was a common additive used in paint before the 1980s throughout the country, when the former Almaden Air Force Station was active.
The former air force station site, including the radar tower, underwent comprehensive abatement and remediation work prior to the construction of the public access improvements. This work included the removal of peeling paint from the radar tower and the application of a sealant. Prior to opening to the public the tower was also painted with an anti-graffiti coating on the first floor. However, it appears that the remnant lead-containing paint that originally was adhered to the structure is now flaking off. For this reason, Midpen is taking the precaution of closing the area surrounding the radar tower to ensure the safety of the public visiting the summit area.
A subsequent project to re-assess the radar tower and identify any additional repairs, to seal and retain the structure over the longer term, will take place over the next couple of years. There may be closures during this future work as well.