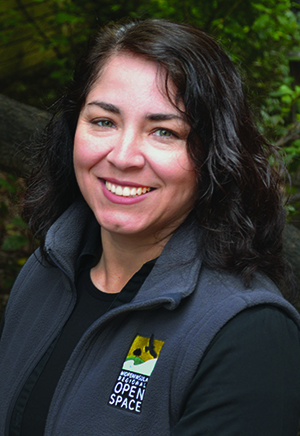 Growing up east of Los Angeles with little open space and few neighborhood trees, my deep appreciation for nature was sparked by my first camping trip with the Girl Scouts. I credit such childhood community connections with helping me understand and appreciate how a healthy natural environment enriches our lives and connects us to our surroundings and each other. Today, as the new general manager at Midpen, I am excited to help achieve our community's vision for its protected public lands. Because we do this work for the benefit of everyone, one of my main priorities is building deeper community connections to open space through outreach, partnerships, and public programs.
Outreach
We are working to reach out and connect people of all backgrounds, ages and abilities to their public open space. By sharing the natural beauty, inspiration, clean air and water, unique biodiversity and tranquility these lands provide we are building community around shared values and outdoor experiences. This focus on connecting people to nature is also one reason we are in the midst of updating our ADA transition plan, striving to ensure people of all abilities have opportunities to enjoy Midpen preserves and participate in our environmental education programs.
Partnerships
We are also building community by strengthening and diversifying Midpen's partnerships. That is why local teenagers working with the Student Conservation Association are earning school credit and a stipend while gaining meaningful introductions to environmental conservation work in Midpen preserves. Our partnership with Latino Outdoors is providing first-time camping experiences under the stars in Monte Bello Open Space Preserve and mobilizing new environmental stewards who are helping to remove invasive weeds in Bear Creek Redwoods Open Space Preserve. And by partnering with Save the Redwoods League, Midpen preserves are providing living outdoor laboratories teaching high school students about climate change.
Programs
As happened in my childhood, direct experiences are often the catalyst connecting people to nature and each other. In this issue, you will read about our enriched interpretive naturalist docent program. This year, we will hire for a new education position dedicated to enhancing existing programming and developing new experiences that connect more youth, families, and people from diverse backgrounds to nature.
Each one of us can play a lasting role in protecting our natural environment, stewarding our local resources and sharing outdoor experiences. I am honored to lead Midpen in building a strong and inclusive community around our shared conservation values. Together, we can realize our vision of a protected greenbelt that sustains and enriches our region for generations to come.


Ana María Ruiz
General Manager