Land conservation professionals hailing from the Appalachians to the Andes recently visited Mount Umunhum to exchange information and ideas. Midpen's Senior Planner Meredith Manning and Acting Assistant General Manager Kirk Lenington provided a site tour and facilitated a high-level discussion exploring the challenges, opportunities and benefits of large-scale landscape preservation in an urban area.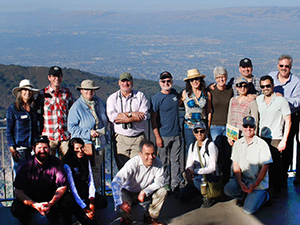 "Our tour of Mount Umunhum illustrated the power of partnership and collective vision," said event co-host Sharon Farrell with the Golden Gate National Parks Conservancy. "The field of large landscape conservation is still emerging, and sharing knowledge inspires new ideas for collaboration, science and stewardship."
The group also toured prominent open space projects in the Sonoma, Marin and Santa Cruz areas.