There are many facets to the work currently taking place to prepare Mount Umunhum for public access. Weather conditions can be difficult on the mountain at this time of year with heavy fog and and rain, but work continues on schedule for an 2017 opening.
Road Improvements
Work is well underway on roadway upgrades and safety improvements to Mt. Umunhum Road to accommodate public vehicle use. For the duration of the project, the road is closed on weekdays to all public traffic beyond the Jacques Ridge parking lot. On weekends the road will be open for all uses up to the Bald Mountain Parking Area only. Bicycles, equestrians and hikers will not be allowed on the portion of the road above the Bald Mountain Parking Area at any time during construction.
Trail Construction
How do you move tons of concrete, wood and steel up a single track trail to build a bridge? Why not fly? In November, pre-fabricated steel structures and other materials for several bridges under construction along the Mount Umunuhum trail were moved into place by helicopter. Midpen staff guided the bridges into place as they were lowered by helicopter. Two bridges were set in place on the footings, and the materials for the third bridge were flown in to be built on site. Due to remote conditions, a concrete pump truck could not be used for bridge footings and Midpen crew hauled and mixed nearly 400 80-pound bags of concrete over a four-day period.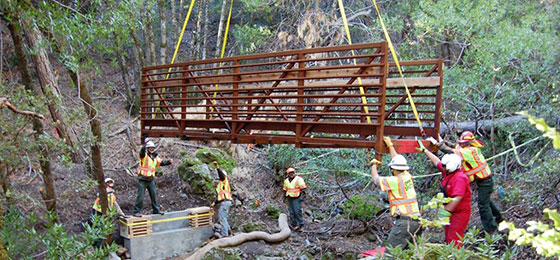 Summit Improvements
The majority of the heavy excavation and earthmoving has been completed. Work is underway on the ceremonial circle, and the shelter structures at the trailhead and summit.