How do curiosity and passion mix together to support open space? Why in the training, mentoring, and nurturing of docent naturalists of course. Twenty-five trainees completed the District's in-depth training course for new Outdoor Activity Docents (aka volunteer naturalists) in August. The training course is offered every two years for a 14-week duration and prepares new docent naturalists to lead interpretive walks, hikes, mountain bike and horseback rides for the public on District preserves year round.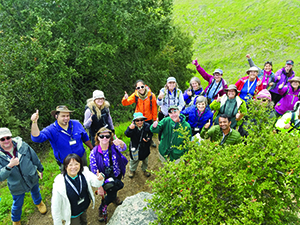 The District's docent program began in 1977 as a way to engage visitors with open space lands and provide enriched experiences free of charge that connect people to the natural and cultural history of the area. This foundation continues to guide the depth and breadth of docent-led activities today. The training course involves lecture and field sessions on topics including ecology, plant communities, birds, fungi and lichen, mammals, reptiles and amphibians, Ohlone culture and pre-history. Instructors are District staff and expert guest lecturers.
New for the 2018 training was a partnership with University of California's California Naturalist (CalNat) certification program. The participants in this enhanced training opportunity were required to meet a few additional requirements in addition to the District's well-established curriculum in order to receive their CalNat certification. The additional instruction covered climate change, natural resource management, and water resources—important elements to understanding California's unique environmental challenges.
The wonderful docents already serving as District naturalists are eager to work together to begin sharing wild places with the public, and to keep learning and discovering together what makes the preserves so special. To find out about our Docent led activities see page three of this newsletter, or the Midpen website at www.openspace.org/activities. To find out more about volunteering for the District visit www.openspace.org/volunteer.
"The class has been a truly wonderful and enriching experience—I've so enjoyed learning from staff, as well as our guest speakers. I realize that I've only just grazed the surface of knowledge that will enable me to be an effective docent—I've got a long way to go!"
— Docent trainee