Restoring Mount Umunhum's Native Plants is Labor of Love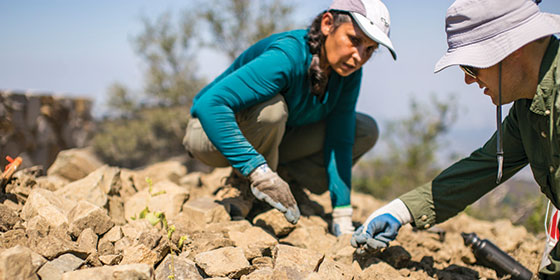 At the summit of Mount Umunhum in the Midpeninsula Regional Open Space District's Sierra Azul Open Space Preserve, a community of exceptionally hardy wildflowers are beginning to bloom. With the help of dedicated Midpen staff and volunteers, these slow-growing native plants are reclaiming their home among rocky sandstone and serpentine soils atop one of the highest peaks in the Bay Area. The many locally rare plants and unique geology of this isolated peak make Mount Umunhum an island of biodiversity in the sky.
Mount Umunhum's summit was significantly altered in the 1950s to create the Almaden Air Force Station, part of the mountain's storied history which visitors can learn about. Midpen began the first step in the difficult process of restoring Mount Umunhum's summit in 2015 by moving the original soils back into place and reforming the mountain's natural peak. We partnered with Grassroots Ecology to collect seeds from plants that evolved to withstand Mount Umunhum's harsh conditions, and grew them into seedlings to replant at the rocky summit.
Early on, we learned valuable lessons. In 2017, as Midpen prepared to open Mount Umunhum to the public for the first time, it became apparent that garden trowels are no match for the mountain's soils. A demolition hammer was needed to dig holes for the more than 4,300 new plants that have been installed at the summit by many caring hands.
"Mount Umunhum is a special site that provides a unique opportunity to learn about vegetation restoration," Midpen Natural Resources Specialist Amanda Mills said. "Many volunteers showed up for multiple planting days over several years. Nothing deters them, including digging in these difficult soils."
As spring emerges, the fruits of their labor are apparent as the once-barren summit is reclaimed by its native plant community.