We have to take care of Mother Earth and all living things in a loving way; the same way we love our children, our mothers, our fathers.
— Valentin Lopez, chairperson of the Amah Mutsun Tribal Band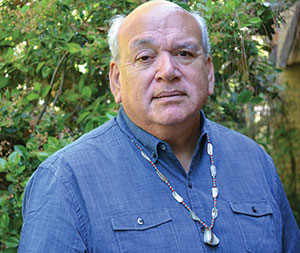 Prior to contact with European explorers, Santa Clara Valley was home to one of the largest indigenous population centers in North America, with over 70 thriving tribal units. Through sophisticated land stewardship techniques like burning, sowing and selective harvesting, the land's first caretakers increased the region's biodiversity, creating an abundance that supported both people and wildlife.
In our region's indigenous creation story—which began at the summit of Mount Umunhum in Sierra Azul—human beings were created with the responsibility to care for all living things. "Our ancestors made sure there was enough food for the four-legged, the finned and the winged relatives," said Valentin Lopez, chairperson of the Amah Mutsun Tribal Band.
Today, after 250 years of displacement and persecution, many of our region's native people are reconnecting with their traditions through their historic role as the land's caretakers. They're working with land managers like Midpen, Sempervirens Fund, San Juan Bautista State Park, California Department of Fish and Wildlife, Año Nuevo State Park and the Bureau of Land Management to improve the health of the land and promote healthy relationships with the land.
In addition to land stewardship, ethnobotany and archaeology— public education is an important part of the Amah Mutsun's efforts to return to the path of their ancestors. Recently, while talking to fourth-graders at Pescadero Elementary School, a child asked Lopez how they could help. "Study what plants are important for butterflies, hummingbirds and bees," answered Lopez. "Plant those in your yard and start taking care of them. Talk to those plants. Whenever the butterflies come, talk to the butterflies. Pray that they are healthy and thank Creator for bringing them to you. That's the kind of relationship we should have with all things."