La Honda Creek Open Space Preserve is rich with history. During the past two centuries it has been a Mexican land grant, dairy farm, oil field, redwood logging mill, cattle ranch and retreat for heirs to the Weyerhaeuser lumber and Folgers coffee fortunes. Now, it has transitioned into something more — a nature preserve offering the public stunning coastal views, colorful spring wildflowers, and immersion into a historic San Mateo County landscape.
The lower portion of this 6,142-acre preserve, accessible from Sears Ranch Road in La Honda, opened to the public for the first time late last year. It offers new parking with restroom facilities and six miles of trail through working ranchlands. Upper La Honda Creek, offering 3.5 miles of trail, is accessible from Allen Road, and requires a permit for access. The area around the historic red barn visible from Highway 84 is slated to open in the next three to four years, eventually linking the upper and lower trail systems.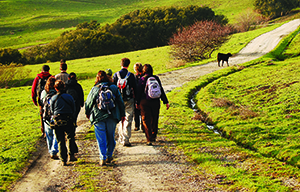 Will I see cattle when hiking in La Honda Creek?
It's possible! La Honda Creek Open Space Preserve includes conservation cattle grazing alongside public access. Midpen uses conservation grazing on approximately 10,800 acres as a beneficial tool for managing grasslands. Cattle grazing promotes the growth of native grasses and wildflowers, helps control invasive weeds, enhances habitat for sensitive species such as the California red-legged frog, and reduces fire fuels. Visitors can expect to see cattle and ranchers, interpretive signs, and of course a few cowpies along the way.
Tips for Hiking Among Grazing Animals:

If cattle block the trail, approach slowly, speak normally and allow them to move away.
Avoid getting between a calf and its mother; avoid cornering cattle and give them room.
Do not attempt to touch or pet cattle.
Dogs and bicycles are not allowed in La Honda Creek Open Space Preserve.