A Message from the General Manager - Fall 2017
The arrival of fall always feels like a promise kept. Summer's heat turns brilliant wildflowers to parchment and bakes the hills golden brown. Much of life goes dormant, as it should. Then, signs of fall begin appearing everywhere in nature reassuring us that life-giving rains are ahead. Some stand out, like this year's abundant poison oak turning crimson, and noisy young Cooper's and red-shouldered hawks preparing to leave their parents. Others are subtle, like the deeper blue of the sky and that unexpected first cool morning so familiar in memory. And so it goes each year. I see changes going on all around me here at Midpen, too. Some stand out, like the opening of Mount Umunhum's summit this September, with La Honda Creek and Bear Creek Redwoods Open Space Preserves soon to follow suit. Others are harder to see, like legislation we're sponsoring that will enable us to purchase land in the upper Guadalupe Watershed and more quickly and cost effectively deliver public access projects to you. There are too many to mention. I encourage you to peruse the vision plan and our annual accomplishments report on our website and learn about the many ways we're serving the public by protecting, restoring and creating access to local open space.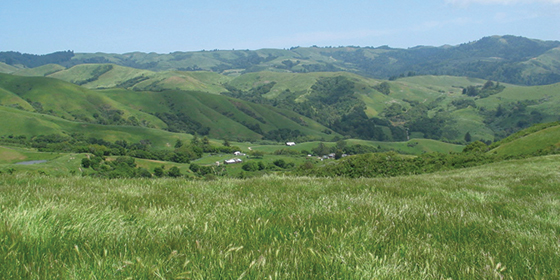 Midpen's projects are life giving, too. Improved stock ponds at La Honda Creek Open Space Preserve had more California red-legged frogs in them this year than ever before. A newly awarded $1 million-dollar grant allows us to improve forest health in Bear Creek Redwoods. The restoration of Mount Umunhum's summit supports the return of species like the purple martin. There has even been a possible California condor sighting.
We consider it our privilege to complete these projects and keep our promises to you. Our hope is that each of you benefit from them by being able to breathe clean air, drink clean water, eat local food and get outdoors to observe the many signs in nature promising fall's arrival.

Stephen E. Abbors
General Manager