Spring is unfolding at Mount Umunhum's recently restored summit. Native plants are taking root and wildlife are reappearing. People too are returning to Mount Umunhum, in many different and meaningful ways. A cultural conservation easement approved by Midpen in December grants the Amah Mutsun Tribal Band permanent rights to help steward Mount Umunhum's summit, a sacred site to the tribe and their Native Californian ancestors. Umunhum means hummingbird in local native languages, and the mountain and its namesake animal are central to the Amah Mutsun Tribal Band's creation story.
"We have an opportunity and a responsibility to help reconnect the Amah Mutsun with their cultural heritage," Midpen's Acting General Manager Ana Ruiz said about the easement. "It also supports Midpen's mission by enhancing our ability to restore Mount Umunhum and provide a richer experience to visitors."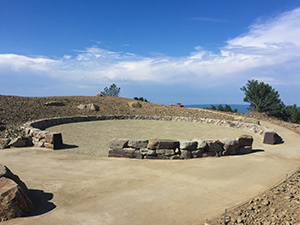 The easement allows the tribe to perform hands-on indigenous plant management techniques and share centuries of cultural knowledge with the public through activities like the traditional ceremony held in January with public participation. The public was first welcomed to Mount Umunhum last September after Midpen completed a $15 million project to restore the summit and provide public access, which is not affected by the easement.
"Restoring our relationship to Mount Umunhum and having a place to pray helps our members heal from our historic trauma," said Amah Mutsun Tribal Band Chairman Valentin Lopez. "It allows us to take care of that mountaintop, the wildlife and plants there, and it's a great opportunity to educate the public."
Native wildflowers are blooming atop Mount Umunhum, and so is the Amah Mutsun Tribal Band's renewed relationship to the peak, creating opportunities for people from all walks of life to connect with nature and culture at Mount Umunhum.
Learn more about limited ada access at Mount Umunhum beginning in March 2018