A Message from the General Manager - Winter 2017
Dear Friends,
Before I left the golden hills of my native East Bay for the Peninsula's forested slopes, I was given an oil painting of the East Bay hills. The Santa Cruz Mountains appear as a blue ridge on the distant horizon. This beautiful artwork has adorned my office wall for the last decade, during which I have had the honor of leading Midpen. The painting serendipitously encompasses many of the Bay Area landscapes I've spent the last 47 years caring for and working to preserve. As I prepare to retire at the end of the year, I feel a deep appreciation for the many talented and passionate people I work for and alongside every day. And I am confident these landscapes are in good hands.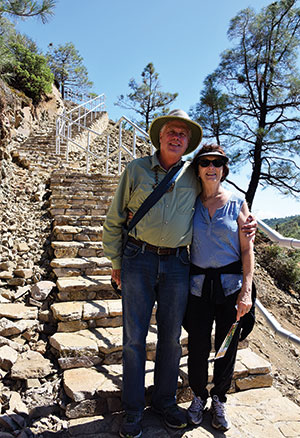 I am immensely proud of the body of work we have achieved together over the last ten years. We've created a strong foundation ensuring Midpen is financially sustainable and able to fully serve the public into the future. We've added 8,000 acres of open space to the regional greenbelt, helping the complex web of life these landscapes support. We've restored waterways, grasslands and forests so they in turn can provide for life. We've blazed new trails, including a vision for Midpen's future, a plan to achieve it and the resources to make it happen through voter-approved Measure AA.
We are inviting all of you to connect with nature as you explore new areas of open space at Mount Umunhum and La Honda Creek, with Bear Creek Redwoods and more to follow starting next year. There are more projects than I have room to mention and I want to thank you for your unwavering support, excellent guidance and hard work that has made all of this a reality.
I look forward to returning home to the East Bay and spending time with my best friend and wife, Carlene, and our two grown daughters. However, I'll always have an eye on that blue ridge in the distance where I was lucky enough to have spent a decade working with all of you fulfilling Midpen's important mission. I'll keep my hiking boots on, though, and don't think I'll ever stop my daily walks to marvel at nature as I've done since I was a boy. And I will always work to protect the environment wherever I can.
Whether we have met, worked together, or simply communicated through the pages of this newsletter because we share a common love for nature and open space: Thank you for being a part of my professional journey. It has been a privilege to serve you and steward these lands. I know you will continue to be an engaged and critical part of Midpen's work caring for the land that ultimately supports us all. See you on the trails.

Stephen E. Abbors
General Manager