Lower La Honda Creek Open Space Preserve Opening Soon
If you've ever driven Highway 84 towards the coast, you know that as you descend from Skyline an iconic red barn built more than a century ago comes into view. This is La Honda Creek Open Space, one of our largest and most diverse preserves. These 6,144 acres of grasslands, forests, watersheds and ranchlands are woven into the fabric of Coastside life going back centuries.
Some of what you can't see from the highway that traverses the edge of this preserve are its hilltop views, lush creeks and working cattle ranch. To date, only limited public access has been feasible. That is about to change thanks to the recent passage of Measure AA by local voters. In August, we broke ground on a new parking area at the end of Sears Ranch Road in La Honda. It is scheduled to open this winter, giving hikers and equestrians access to six miles of new trail through historic ranchland where grazing continues.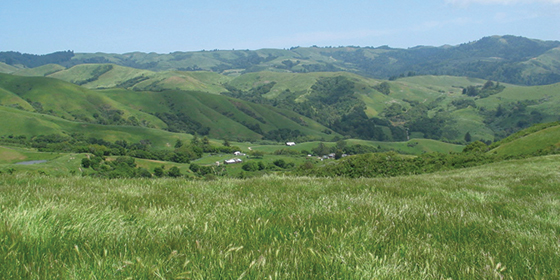 This is only the beginning of a grand vision for La Honda Creek Open Space Preserve expected to take three decades and an estimated ten million dollars to fully realize. A roadmap for achieving this vision is described in the Preserve's master plan. It balances recreational and ranching uses for the benefit of the land, wildlife and surrounding community. The ambitious plan includes a 30-mile network of trails accessed from multiple parking areas; interpretation of the preserve's unique plants, animals and history; cattle grazing; and restored habitat for rare species including California red-legged frog, King's Mountain manzanita, and pallid and Townsend's big-eared bats.
We're excited to take this first step, allowing those who have only peered into La Honda Creek Open Space Preserve's beautiful working landscape from their car to stop and explore its beauty, richness and history integral to life on the Coastside.