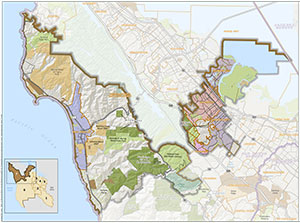 NOTICE IS HEREBY GIVEN that the office of Director of Ward 7 on the Board of Directors of the Midpeninsula Regional Open Space District became vacant on October 11, 2018. Ward 7 includes the cities of El Granada, Half Moon Bay, Montara, Moss Beach, San Carlos, and portions of Redwood City and Woodside.
Find your ward on our interactive map
The remaining members of the Board of Directors of the Midpeninsula Regional Open Space District intend to appoint a successor who will serve the current, unexpired term of Director of Ward 7, which ends on January 4, 2021. The appointment will be made on November 27, at a meeting to be held at 330 Distel Circle, Los Altos, California, 94022 at 7:00 p.m.
THE BOARD OF DIRECTORS OF THE MIDPENINSULA REGIONAL OPEN SPACE DISTRICT invites interested candidates to submit an application to fill the vacant position of Director representing District Ward 7 for an unexpired term ending January 4, 2021, through the next general District election in November 2020.
Board of Directors
Board Members represent the interests of their constituents. They respond to inquiries, suggestions and complaints regarding District programs and services and meet regularly with constituents to discuss developments affecting the ward that they represent and the District as a whole.
The Board elects its own officers and the Board President chairs its meetings. The Board holds its regular meetings on the second and fourth Wednesdays, and special Board meetings may be hold on other days as well. Board agendas and meeting materials for past meetings may be found on the District's website. Board members also serve on Board committees, which typically meet on Tuesday afternoons. Board meetings, and those of Board standing committees, are open to the public. Board members may also be asked to attend meetings with other elected officials or stakeholders.
Application Timeline
November 9, 2018

-Deadline for receipt of applications for Ward 7

November 15, 2018

-Special Board Meeting, if needed, for the purpose of screening applications if more than ten applications are received.

November 20, 2018

-Special Meeting: Initial interviews for Ward 7 applicants

- Applicants may still be considered if they are unable to attend the interview dates

- Interviews may be conducted by phone or by making alternate arrangements

November 27, 2018

-Special Meeting: Final Interview for Ward 7 applicants

-Appointment of new Ward 7 Director

-Adoption of Appointment Resolution

-Swearing in of new Director
Applicant Requirements
Registered Voter residing within the boundaries of District Ward 7