Background
Measure AA is a $300 million general obligation bond approved in June 2014 by over two-thirds of District voters. Proceeds from bonds, which will be sold in a series over the next 20-30 years, will be used to:
protect natural open space lands
open preserves or areas of preserves that are currently closed
construct public access improvements such as new trails and staging areas
restore and enhance open space land, which includes forests, streams, watersheds and coastal ranch areas
Midpen issued its first portion of bonds, sized at $45 million, in August 2015. These funds were used to implement Measure AA projects first approved by the board of directors at a public meeting in October 2014, then updated in March 2018.
Accomplishments
Since 2014, Measure AA-related accomplishments include:
preserved 1,976 acres
opened 20.1 miles of additional trail to public access
closed a critical 0.6-mile gap to establish 80 miles of continuous Bay Trail access
opened three new parking areas, creating a total of 126 new parking spaces
expanded the conservation grazing program by 315 additional acres to reduce wildand fire risk and support viable agricultural use of land resources
opened three new preserve areas to the public: Mount Umumhum Summit of Sierra Azul Open Space Preserve, lower La Honda Creek Open Space Preserve, and Bear Creek Redwoods Open Space Preserve
invested $19.9 million in MAA funds in projects on the San Mateo County Coastside
Measure AA Bond Accountability Report
The Measure AA Bond Oversight Committee consists of seven at-large members who reside within the District boundaries. The committee is appointed by Midpen's board of directors to ensure accountability, transparency and public oversight of all funds collected and allocated under the measure. Learn more about the Measure AA Bond Oversight Committee.
Measure AA funded projects are highlighted with information through our newsletters, email, website, and social media and signage in our preserves. We encourage the public to stay involved in and aware of our project accomplishments by signing up for email notifications, attending our board meetings and providing comments. We look forward to this wonderful opportunity to expand our beautiful open spaces with habitat restoration and outdoor recreation opportunities.
Future Projects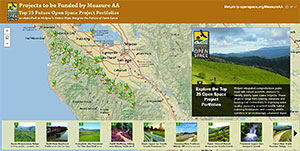 As promised, Measure AA funds are used ONLY for the 25 key priority actions identified by the community during the Vision Plan process. Those priority actions are portfolios of multiple projects that are prioritized independently. Download the Top 25 Future Open Space Project Portfolios.
Next Steps
The Midpen board of directors reviews project prioritization to adapt to changing needs and conditions. The current list of Measure AA project priorities was adopted by the board of directors in March 2018 and included opening additional areas of Bear Creek Redwoods Open Space Preserve, continuing work on Bayfront habitat protection and public access partnerships, and providing additional public access and habitat restoration in La Honda Creek Open Space Preserve.
Land Conservation Progress Update
Land acquisition is the first step to open space conservation. The Vision Plan identified 50,000 acres of open space land that, when conserved, would significantly improve wildlife conditions, wetlands, watersheds, creeks, sensitive plant communities and low-intensity outdoor recreation. As of July 2020, Midpen has protected 1,976 acres of land with $23,782,810 in funding support from Measure AA funds.
The Bond Oversight Committee is comprised of seven at-large members who reside within District boundaries. The committee convenes at least once a year and takes the time required to thoroughly review annual Measure AA expenditures and Midpen's Annual Audit and Accountability Report. Each year, the committee's findings are presented to the board at a public meeting and will be posted on our website. Learn more and read the reports.
Measure AA ballot language, as approved by voters
To improve access to hiking and biking opportunities, protect and preserve redwood forests, natural open spaces, the scenic beauty of our region and coastline, critical wildlife habitat, restore creeks to protect water quality, and reduce forest fire risk; shall Midpeninsula Regional Open Space District be authorized to issue up to $300 million in bonds, at a tax rate not to exceed $3.18 per $100,000 of assessed value of property owned, with expenditures verified by an independent citizen oversight committee.