Location | Goals | Public Access | Design | Public Input

Location
The Red Barn site at La Honda Creek Open Space Preserve is approximately 8 acres and is located off of Highway 84 between Highway 35/Skyline Boulevard and the Town of La Honda. The Red Barn area was part of the former Weeks Ranch, to which Ronald J. Weeks and his family moved in the 1850s. None of the initial ranch buildings remain, except for the Red Barn which was estimated to be constructed in 1892. The Red Barn is prominent in this preserve and an important local landmark visible from Highway 84.
Public Meeting

Tuesday, June 12, 2018
6:30 PM – Open House | 7:00 PM – Public Meeting/Special Board Meeting
La Honda Elementary, 450 Sears Ranch Road, La Honda, CA 94020

The Midpen board is scheduled to vote on accepting the Red Barn visitor area conceptual design, allowing the District to begin the environmental review process which will continue to provide public input opportunities.
Project Goals
Establish new public access in the central portion of La Honda Open Space Preserve.
Design elements to reflect the rural character of the site and the Red Barn.
Balance public access with grazing activities.
Include amenities that facilitate environmental education.
Protect scenic views of and from the site.
Construct by Fall 2022.
Public Access
Because of its central location in the Preserve, and access from Highway 84, a popular coastal route, the Red Barn visitor area is intended to serve as an educational destination, a regional gateway to the Preserve, and a trailhead serving the future Bay Area Ridge Trail route through the Preserve. Improvements to the site are intended to serve a variety of visitors and include:
New driveway off of Highway 84
Parking lot with space for 50 passenger vehicles and 10 motorcycles
Accessible pathways and 1-mile easy access loop trail
Picnic areas, vault toilet, and trailhead signage
Interpretive elements that highlight the ranching history and natural resources of the area
Ranching infrastructure balancing the public use and on-going grazing occurring at the site.
Conceptual Design
A conceptual design for the Red Barn visitor area has been developed through a public process beginning in fall 2016. The proposed conceptual design aims to balance the public access improvements with the scenic, ecological, historic, and grazing resources present on site.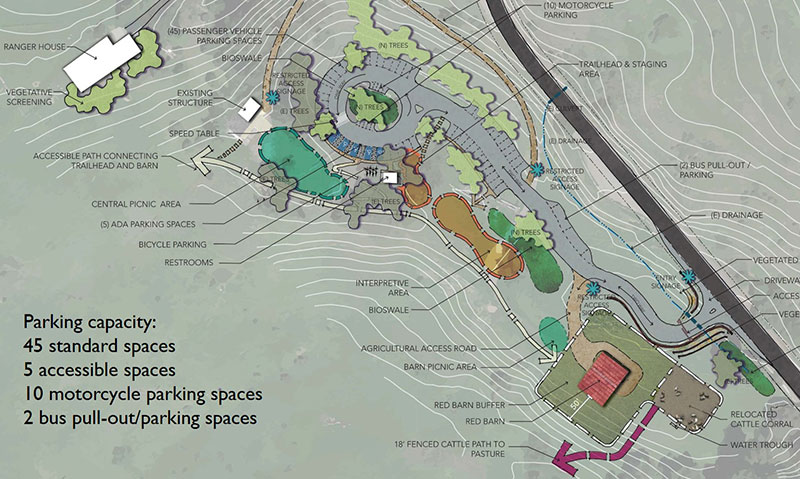 Red Barn Conceptual Design Alternatives Presentation
On Wednesday, May 9, 2018 the Board of Directors received an informational presentation to preview Conceptual Design Alternative 3 in preparation for a Community Meeting and Board Meeting to be held on June 12, 2018 at 6:30 pm in the Town of La Honda.
The Committee first received a a presentation of two conceptual design alternatives for the project in 2017. Input received at this meeting along with new findings from a follow-up analysis of the opportunities and constraints were incorporated into the new recommendated design (Alternative 3). 2017 Red Barn Public Access Conceptual Design Presentation
Public Process Timeline