Valley Water has provided Midpen with $200,000 in funding allowing us to remove invasive plants from 55 acres of forest understory, creek corridors and pond edges in Bear Creek Redwoods Open Space Preserve, creating a healthier watershed for people and wildlife.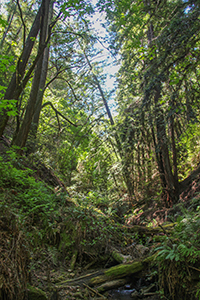 HEALING FROM THE PAST
Bear Creek Redwoods Preserve was once the site of elaborate estates and gardens, which introduced invasive species to the surrounding forests where they spread unchecked for decades, crowding out native plants and disrupting the natural ecosystem. Now protected as natural open space with public access, Midpen continues its work to preserve this landscape's fascinating history and restore the natural environment.
REMOVING INVASIVE PLANTS
Restoration is focused on removing 17 invasive species, the main three being periwinkle, English ivy and French broom. Others include Himalayan blackberry, yellow star and Italian thistles and poison hemlock. Workers are removing plants by hand and using manual tools due to the sensitivity of the watershed areas they are working in. Midpen is monitoring the work sites and will revegetate with native plants as needed.

YOU CAN HELP!
Simply start in your own yard. Identify and remove invasive plants in your landscaping, and choose to plant beautiful California native or non-invasive alternatives instead using this helpful resource from the California Invasive Plant Council.