In the densely populated Bay Area, Midpen preserves provide critical remaining habitat for native wildlife, such as mountain lions, and nearby nature for people. Midpen began new mountain lion conservation research in the fall of 2020 to learn more about how mountain lions use open space lands also frequently visited by people. The results will help guide Midpen's science-based land management. Midpen is specifically studying:
Mountain lion movement and habitat use
Factors influencing mountain lion behavior
Strategies to help people and mountain lions coexist
We hope you'll follow along by signing up for our email list, and learn more about the many challenges these important big cats face, how we can best safely coexist to help them survive and thrive in the Santa Cruz Mountains region and beyond.
---
Want to know more about mountain lions?
How to identify a mountain lion, what to do if you encounter one and how to stay safe on the trails.
---
Collaring Study
In partnership with the Santa Cruz Puma Project and the California Department of Fish and Wildlife, Midpen is attempting to fit some mountain lions in Midpen preserves with high visitation with temporary tracking collars that do not adversely affect them, and provide GPS information similar to fitness trackers, before automatically falling off. This science is humanely conducted and is aimed at the long-term conservation of these important native predators.
Collaring began in Midpen's Rancho San Antonio and Monte Bello open space preserves in December 2020. To date, one female mountain lion called115F, has been collared for this study.The collaring effort may expand to other highly-visited preserves including Fremont Older and Piccheti Ranch Open Space Preserves and others.
Meet 115F
Just before Christmas 2020, a healthy two-year-old female in Rancho San Antonio Open Space Preserve became the first mountain lion to be fitted with a temporary GPS collar by the Santa Cruz Puma Project as part of Midpen's new research.
The first month of data from her collar showed that she stayed within an area of about 12 square miles near the area she was intially collared, and primarily travelled through undeveloped lands and away from major roads. We will continue to share what we learn about and from 115F in an effort to help our community coexist with cougars.
See where 115F has been using Santa Cruz Puma Project's PumaTracker tool.
115F appeared in this video from a wildlife camera on private property in the Los Altos Hills area, provided courtesy of Luiz André Barroso.
115F is also occasionally appearing on wildlife cameras in Midpen's Rancho San Antonio Preserve that are part of a separate but related new wildlife camera study.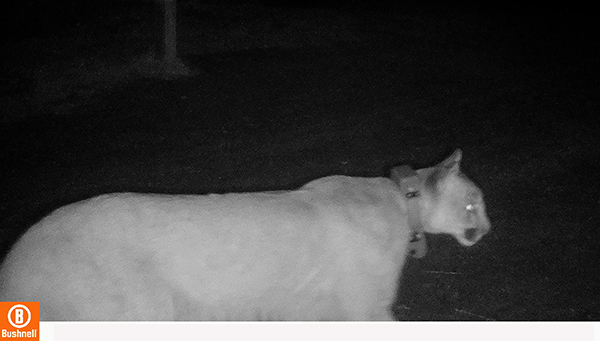 Wildlife Camera Study
In the fall of 2020, Midpen biologists began using a scientific grid system of motion-activated still cameras, currently only in Rancho San Antonio Open Space Preserve, to learn more about
the movement, abundance and diversity of mountain lions and other wildlife. Cameras are positioned and used for wildlife research only.
Learn more about the camera study, see some of the first images and let us know about your interest in volunteering on the Wildlife Photo Index Research Project web page.
---
Watch Midpen Resource Management Specialist Matt Sharp Chaney's presentation on mountain lion conservation research.
Midpen supports effort to protect mountain lions

Midpen's nearly 65,000 acres of preserved public open space provide prime habitat for mountain lions, a top predator in our region facing many challenges in our region. We're working to protect regional mountain lion populations by preserving habitat, increasing habitat connectivity through the Highway 17 Wildlife Crossing Project, promoting rodenticide regulations and supporting research that improves our understanding of lion populations, ecology and behavior throughout our region of influence.