Location & Background
Cooley Landing Park is located on a peninsula at the eastern end of Bay Road in the City of East Palo Alto. Operated by the City, the park was created in partnership with the District which owns portions of the peninsula as part of Ravenswood Open Space Preserve. To the south lies the Palo Alto Baylands Nature Preserve, known for the highest concentration of the endangered clapper rail in the world.
Current Progress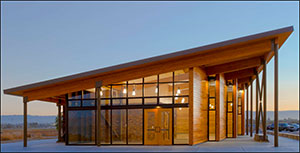 On Saturday, April 16, 2016 Midpen and the City of East Palo Alto celebrated the Grand Opening of the Cooley Landing Education Center. It was a beautiful day for the over 300 community members who joined us to take part in the festivities. On this special occasion, we were joined by Congresswomen Jackie Speier and Anna Eshoo, Senator Jerry Hill, Assemblyman Rich Gordon, Supervisor Warren Slocum, Former Supervisor Rose Jacobs Gibson, Mayor Donna Rutherford, Midpen Directors Nonette Hanko, Pete Siemens, Cecily Harris and Curt Riffle as well as councilmembers from East Palo Alto, Menlo Park and Palo Alto. The Education Center will host partner-based education programs and is available for rental by the public for certain uses. For booking information contact the City of East Palo Alto at 650-853-3100. Download Rental Information
Project Timeline
Phase IV: Interpretive site improvements around the Education Center.
Estimated completion in 2016
Phase III: Construction of the Education Center which will serve as a place for community meetings, and as an institution which preserves and enhances the area's cultural heritage, history, and traditions; identifying a partner to operate and manage the center.
Completed in September 2015
Phase II: Installing utilities, improving the access road, and installing native planting.
Completed in February 2014
Phase I: Site remediation, trail access, road improvements, some parking, benches, and a picnic area.
Completed October 2012
More Information
Visit the East Palo Alto's Cooley Landing Project page, or contact Emily Pharr, Cooley Landing Project Manager.