Location | Trails & Recreation | History | Restoration | Construction | Project Archives
Grand Opening Weekend - September 16 & 17

Don't miss this historic weekend and help create Mount Umunhum's next chapter as one of the Bay Area's great publicly-accessible peaks.

We welcome you to experience Mount Umunhum; to find perspective in its spectacular views and adventure on its trails, while discovering its unique biodiversity and storied history. This special place will be open to the public for the first time in a generation thanks to you, local voters, who passed Midpen's Measure AA in 2014 making this project possible.
Location
Located in the 18,000-acre Sierra Azul Open Space Preserve in Santa Clara County, Mount Umunhum, at 3,486-feet, is the fourth-highest peak in the Santa Cruz Mountains and features:
Spectacular views that extend from the Monterey Peninsula to Mount Tamalpais and, on a clear day, the Sierra Nevada
Plant communities ranging from gray pine forest and chaparral to the unique summit rock gardens containing many rare natives
Home to over 63 unique species, and over 324 native and animal species
The Mount Umunhum Summit project is an excellent reflection of Midpen's three-part mission statement: to preserve open space, to protect and restore the natural environment, and to provide opportunities for ecologically sensitive public enjoyment and education.
Trails and Recreation
The new, nearly 4-mile Mt. Umunhum Trail will extend from the Bald Mountain Parking Area (completed in 2014) to the summit, crossing through the varied habitats of the mountain and offering stunning views of the valley below. This multi-use trail offers easy-to-moderate terrain for hikers, bicyclists and horseback riders and, at the summit, will be the highest point on the Bay Area Ridge Trail.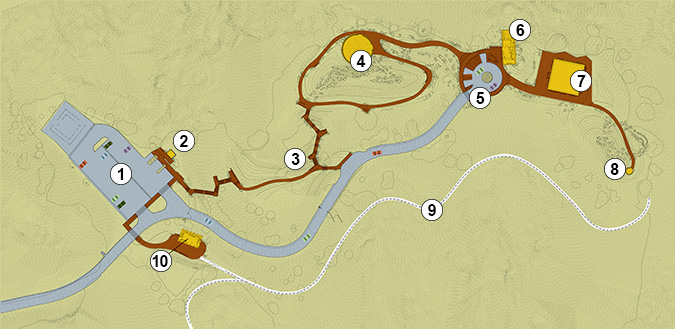 Parking lot (54 total spaces, including 3 ADA accessible)
Restroom
Stairs to West Summit
Ceremonial Space: Honoring the site's Native American history and return to the mountain, this is a place to reflect on and renew connections with nature
ADA parking, passenger dropoff, and turnaround
Summit Shelter and Viewpoint (ADA accessible)
Radar Tower
East Summit Viewpoint: when arriving at the summit via the trail, visitors can stop and take in the magnificent views.
Mt. Umunhum Trail: This nearly 4-mile multi-use trail passes through multiple habitats and offers both shade and spectacular views above and below. (trail alignment subject to change)
Trailhead Shelter and Picnic Tables (ADA accessible)
A Mountain Made of Stories
We invite you to visit Mount Umunhum, as people have done for thousands of years, and learn its rich stories steeped in Native American history, gold rush-era mining and the Cold War; and help create Mount Umunhum's next chapter as one of the Bay Area's great publicly-accessible peaks.
The Natural World
For millions of years, Mount Umunhum has been shaped by the close proximity of the San Andreas fault system. The unique geology and low-nutrient serpentine soils are home to many rare native plants. Several creeks have headwaters that start on the mountain and multiple critical reservoirs are tucked into its foothills on all sides. Some of the mountain's most striking features are the exposed rocky summit and slopes, with jutting rock outcrops and scattered clusters of plants.
The First Caretakers
Long before this region was "Silicon Valley" and "The Valley of Heart's Delight", this was home to one of the largest Native American population centers on the continent, with 70 diverse, healthy, economically-flourishing tribal units. For hundreds of generations, indigenous people actively stewarded the land, increasing the health of the environment and its biodiversity. Throughout their long history, Native Americans actively stewarded these lands using traditional practices such as:
Planting the seeds of favorite useful plants close to settlements for easy harvest
Pruning plants to produce better fruits, and straighter twigs and grasses for basket making
Use of fire to prevent shrub encroachment on grasslands and increase the landscape productivity for hunting and plant collection
Miners and Settlers
Contemporary history is directly connected to the nearby New Almaden Quicksilver mining operations, which began in 1845. The cinnabar pigment used by the Ohlone people contained mercury, also known as "quicksilver", which was essential for processing gold during California's Gold Rush. In 1870, "Austrian Gulch", situated on the southwest slopes of Mount Umunhum was settled by German and Austrian refugees of the Franco-Prussian War. Well known for their orchards and vineyards, this rugged community survived off the land for 60 years despite having to rebuild from fires and floods on multiple occasions.
Military History
In the late 1950s, the United States government procured Mount Umunhum to build the Almaden Air Force Station, an early warning radar station that operated from 1957 to 1980. The station was constructed as part of the network of radar stations used to keep watch over the nation's airspace during the Cold War. The radar tower on Mount Umunhum was one of a system of 23 similar stations in California and one of hundreds across the country that fed radar signals into the Semi-Automatic Ground Environment (SAGE) defense system.
A Natural Treasure
Mount Umunhum is an island in the sky with a geology and diversity of plants and animals unique to the Santa Cruz Mountains including, rock gardens and rare trees, buzzing hummingbirds and soaring raptors, blooming wildflowers and colorful butterflies. Restoring the mountain's natural environment sustains not only the amazing species that live here, but people too, who benefit from clean air, drinking water and opportunities to connect with nature.
In 2009, with federal funding, Midpen removed 3,000 cubic yards of hazardous materials, including lead paint, asbestos, fuel storage containers and PCB transformers; and deconstructed 13,680 tons of concrete, asphalt, wood and other materials.
The landscape will be restored by re-establishing the natural topography of the area.
Over 2,000 plants will eventually be planted at the summit, grown from seeds collected in the Mount Umunhum area at the environmental nonprofit Acterra's native plant nursery.
The future of Mount Umunhum is one of regeneration—returning the significantly altered mountaintop to its natural state, with native plants once again growing abundantly on the summit and creating a beautiful habitat that both animals and people can enjoy.
Construction
Construction on the summit is moving along as crews work around challenging weather and tricky spaces! While the wet winter caused some delays, construction of the Trail and Summit facilities, which includes restrooms, parking, viewing coves, shelters, and interpretive displays, is on track for completion by the Grand Opening.
Contact Information
For questions or comments regarding the Mount Umunhum Summit Project, please contact us at mt.um@openspace.org