Timeline & Updates | Goals & Objectives | Stakeholders & Partners | Video | Contact
Location and Background
Currently, Midpen is at the at the initial phase of developing a wildlife and regional trails passage across Hwy 17, between Los Gatos and Bear Creek Road. This passage was identified as a high-priority project by the public and is part of Midpen's adopted Vision Plan which is partially funded by Measure AA, a bond measure approved by voters in 2014. Midpen is leading this locally, regionally and nationally important project and will collaborate with many partners to complete this work.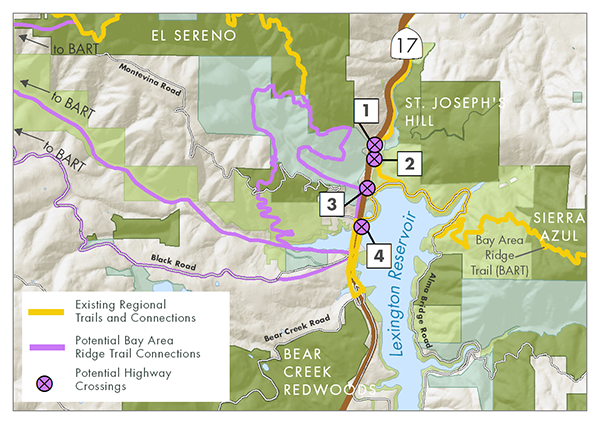 Highways can be dangerous places for both people and wildlife. State Highway 17—from the southern border of the Town of Los Gatos to the Bear Creek Road overcrossing has been identified as a "road kill hot spot", a place that is dangerous to both wildlife and people who try to navigate an increasingly busy stretch of narrow highway. This section of Hwy 17 lacks wildlife accessible culverts and bridges that can often provide safe crossing for wildlife. As a result, over the last nine years, 82 animals have been killed in this section of Hwy 17, including 51 deer, 5 mountain lions and numerous small and medium mammals. These collisions (and near collisions) are also extremely dangerous for motorists and their passengers.
Hwy 17 has fragmented thousands of acres of open space in the Santa Cruz Mountains limiting the ability of wildlife to find food, mates and habitat. Well-placed and appropriately designed crossings will help alleviate wildlife/vehicular collisions and will enable wide-ranging species like mountain lions to live healthier lives in an increasingly urbanized landscape. To accommodate large animals, a large crossing structure is needed.
Project Timeline
| | |
| --- | --- |
| 2016 | Identify Project Alternatives (Feasibility Study) |
| 2017 - 2018 | Select Preferred Alternative(s); Environmental Review and Permitting |
| 2019 - 2020 | Plans and Specifications (Design) |
| 2020 (or later) | Construction (dependent on funding) |
Project Updates
The Planning and Natural Resources Committee meeting previously scheduled for October 18, 2016 has been postponed until further notice. Please join our mailing list to receive notification about this and other future meetings.
An Open House was held on August 2 to provide an overview of the project to date, progress on the Feasibility Study, and Review of the Preliminary Alternatives and Conceptual Designs. Following the presentation, the public was asked to provide feedback on the four preliminary alternatives. The presentation and Preliminary Alternative Report are both available for review below.
A Summary of Public Comments collected during the Open House and subsequent comment period has been compiled.
Highway 17 Wildlife Passage Presentation
Preliminary Alternatives Report
During the next phase of the project, Midpen will continue to work with project partners to select the preferred alternatives.
Sign up to receive Highway 17 Crossing updates
Goals and Objectives
Provide for safe movement of wildlife and recreational trail users across Highway 17.
Improve motorist safety by reducing the potential for collisions with wildlife (and recreational users).
Improve regional trail connections.
Maintain healthy wildlife populations.
Regional Trails - Crossings for People
As part of this project, Midpen will partner with the Bay Area Ridge Trail Council and others to connect county and Midpen open space lands and trails.
Today, the gap in the Ridge Trail between Sanborn County Park to the west of Hwy 17 and Sierra Azul Open Space Preserve to the east, is one of the most challenging and significant in the San Francisco Bay Area. Hwy 17 is also a barrier between the popular Los Gatos Creek Trail and Bear Creek Redwoods, El Sereno, and St. Joseph's Hill Open Space Preserves, as well as parts of Lexington County Park, neighborhoods in the Lexington Basin, the Santa Cruz Mountains and beyond.
This route is also anticipated to be designated as part of the Juan Bautista de Anza National Historic Trail, a National Park Service administered trail which will ultimately extend from Mexico to San Francisco, following the route of the Spanish explorer.
Key Stakeholders and Regional Partners
This project requires a high level of coordination and partnership. Partners in this project may include:
Midpen is continually working to develop additional partnerships and expects this list to grow as the project develops.
Video
The Mercury News featured the project in a recent article, New tunnels in Santa Cruz Mountains will provide cougars safe passage, which included the video below.
Contact
Sign up to receive Highway 17 Crossing updates
For project information, contact Julie Andersen, Project Manager at Hwy17@openspace.org