Location and Background

During Midpen's Open Space Vision Plan process, expanding dog access at El Sereno Open Space Preserve was highlighted as a priority by interested members from adjacent neighborhoods. In Fall of 2014, the Board of Directors approved the project to be included on the Five-Year Measure AA Project Prioritization List. The project's goal is to expand dog access to all trails within El Sereno Open Space Preserve. This project will provide additional recreation opportunities for Preserve visitors who enjoy hiking and exploring open space with their dog.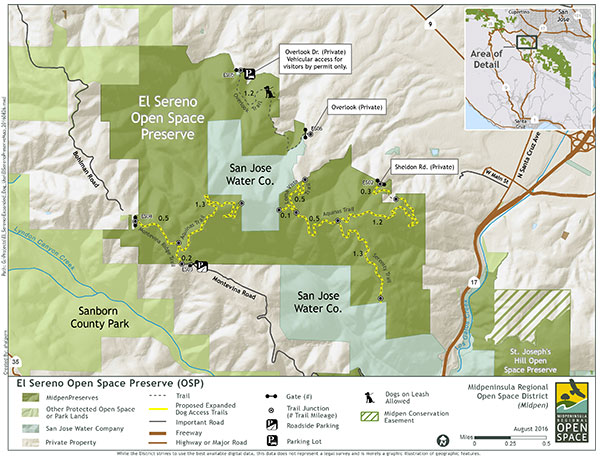 El Sereno Open Space Preserve is named for 2,249-foot Mt. El Sereno, part of a prominent ridge located south of the Town of Saratoga and west of the Town of Los Gatos. A distinctive scenic backdrop to these towns and with terrific views of the Santa Clara Valley, the 1,415-acre Preserve is primarily a densely vegetated chaparral community. Chaparral habitat has low sensitivity and is ideal for dog access because the dense brush and steep slopes help keep dogs within the trail corridor, minimizing ecological disturbance. Currently, dog access is only permitted on the Overlook Trail, a 1.2-mile trail that is unconnected to the main trail system. This project is looking at opening all remaining trails within the Preserve to dogs.
El Sereno Dog Access Presentation - November 9, 2016
Project Timeline
August 2016: Neighborhood Meeting held to receive feedback on project proposal
October 6, 2016: Planning and Natural Resources Committee Meeting with opportunity for public comment
November 9, 2016: Board of Directors Meeting for project description approval.
Winter 2016: Environmental (CEQA) Review
Early 2017: Board of Directors Meeting to amend Preserve's Use & Management Plan
2017: Pending Board approval, Preserve would open to dogs
Email questions or comments to ElSerenoDogs@openspace.org or call Alicia Halpern at (650) 691-1200.
Public Participation