You and your canine companion are invited to experience many dog-friendly trails on Midpen preserves:
* While in this area, visitors must have a leash in their possession and keep their dog under voice control so that they do not harass other park users, dogs, or wildlife.
In accordance with the Americans with Disabilities Act, Midpen accommodates service dogs in preserves wherever we allow public access.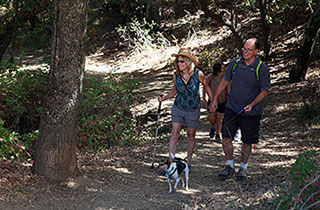 The following rules apply at all times:
Visitors may have no more than three (3) dogs per person.
Dogs are not allowed in any Midpen water areas, including streams or ponds.
Dogs must be on a leash 6' long or less. Self-retracting leashes are allowed with a maximum extended length of 25 feet.
Do not allow dogs to harass wildlife or other visitors.
Bag and remove dog waste by packing it out. Do NOT leave bagged waste at the preserve or in restrooms.
Before heading out to an open space preserve with your dog, please review the Dog Access Guidelines.
Always carry water for your dog. No water is provided.
Choose a hike within the limits of your dog's ability.
Restrict exercise in the heat of the day and hike in the shade whenever possible.
When your hike is finished, give your dog a thorough once-over for ticks and other bugs.
Heat Exhaustion
Be aware that dogs can overheat in the outdoors, particularly on strenuous trails and warm, summer days. Symptoms of heat exhaustion include heavy panting, dry gums, weakness, confusion and inattention. The best approach is prevention:
Avoid hiking with your dog on hot days, especially in direct sun.
Bring plenty of water for yourself and your dog. No water is provided.
Retreat to a cool area, rest, and provide water if your dog shows symptoms.
All recreation must be consistent with the protection of the natural environment. Compliance with the rules ensures everyone using the trails has an enjoyable experience and shows respect for others and for the land. Keeping dogs on leash reduces conflicts with other users and wildlife, and protects the safety of your dog.
Enjoy the views from the top of Windy Hill Open Space Preserve. © Deane Little

Your canine companion will enjoy the shady trails. © Jack Gescheidt

St. Joseph's Hill Preserve is a popular dog walking destination.

Trails can get warm, make sure to pack some water for your pooch! © Jack Gescheidt