Overview | Policy | Public Input | Wildlife | Timeline | Research | Partners | Contact
Conservation Grazing Overview
Midpen's Conservation Grazing Program is a collaboration with small-scale, local ranchers accomplishing multiple goals that align with our mission:
Maintain and restore native grasslands and their unique biodiversity
Manage vegetation to reduce wildland fire risk
Our conservation grazing program began in 2007, and now encompasses approximately 9,000 acres leased (approximately 6,500 acres of which are accessible to periodic grazing) to seven local cattle ranchers. These partnerships are a critical tool helping Midpen manage large-scale coastal grasslands and the rich biodiversity they support. California's native grasslands evolved with regular disturbances historically provided by wildlife herds and Native American burning practices. Without the periodic disturbances these plant communities evolved with, which are now provided in part by appropriately managed conservation grazing, native grasslands and their biodiversity can be lost to introduced plant species, shrubs and forest.
Conservation Grazing Policy Amendment
We are currently conducting a public process, using the best available science and input from stakeholders and the public, to update our conservation grazing policy to safeguard native plants and wildlife while promoting the economic sustainability of conservation grazing where livestock predation by wildlife may occur. The amendments under consideration are specifically limited to meeting the following goals:
Furthering scientific research: Support science that that informs wildlife and livestock protection regionally. Research the best tools to consider for proactively reducing interactions between wildlife and livestock.
Exploring economic tools: These include adjusting reimbursements for confirmed losses (we already do this) and adjusting rent to compensate for expected livestock loss to keep conservation grazing as a viable tool to manage grassland habitats.
In addition, language that re-states Midpen's long-standing prohibition on the take of wildlife due to livestock predation will be emphasized in the policy, consistent with other Midpen policies and ordinances.
Public Process
Community input is critical to the success of this project. Since 2017, staff have surveyed and interviewed local ranchers, reviewed 140 scientific studies on predator-livestock interactions and deterrents and held multiple stakeholder meetings. Use the online form below to provide direct feedback and sign up to stay informed
(additional photo credits for Lewis Reed's presentation)
As we have always done, Midpen will not allow lethal take of mountain lions and coyotes on the public land we manage now or in the future. However, once a mountain lion leaves public land, its chance of being killed increase significantly.
In addition to supporting additional regional research on the topic, for example with UC Santa Cruz's Puma Project, Midpen is continuing discussions with other land managers, wildlife advocates, the agricultural community, legislators and state agencies to explore better ways of protecting livestock and wildlife regionally and statewide. 
Project Timeline
| | |
| --- | --- |
| 2017 | Grazing tenant survey and interviews |
| 2018 | Scientific literature review |
| Jan. 2019 | Public meeting: Partner agency workshop |
| Feb. 2019 | San Mateo County Farm Bureau meeting #1 |
| April 9, 2019 | Public meeting: Midpen Planning and Natural Resource Committee #1 |
| April 2019 | San Mateo County Farm Bureau meeting #2 |
| May 13, 2019 | Public meeting: Agricultural partner workshop |
| June 5, 2019 | Public meeting: Wildlife partner workshop |
| Aug. 20, 2019 | Public meeting: Midpen Planning and Natural Resource Committee #2 |
| Oct. 17, 2019 | San Mateo County Farm Bureau meeting #3 |
| Oct. 22, 2019 | Public meeting: Midpen Planning and Natural Resource Committee #3 |
| Dec. 17, 2019 | Public workshop: 6-8 p.m. at the Mountain View Community Center (201 S Rengstorff Ave, Mountain View, CA 94040) |
| Nov. 4, 2020 | Public meeting: Science Advisory Panel conservation grazing presentation to Midpen's board of directors. |
| Dec. 15, 2020 | Public meeting: Midpen Planning and Natural Resource Committee meeting #4 to consider forwarding conservation grazing policy amendments to Midpen's full board. |
| February 10, 2021 | Public meeting: Midpen board of directors meeting to consider adoption of conservation grazing policy amendments |
Research
Here is a summary of what ranching tenants and the best-available science tell us:
Coyote

Coyotes were once limited to the Central U.S. and Mexico. Despite eradication efforts, coyotes expanded across the country into habitat previously occupied by wolves.

Coyotes primarily prey on rodents, ground squirrels and rabbits. They also eat insects, fruits and vegetation.

Livestock Interaction
Coyotes can predate on small to medium livestock such as sheep and calves, and harass larger animals such as cattle. Solo coyotes are not a significant threat to cattle, but group hunting can be an issue. Coyotes are also known to scavenge on carcasses. To date, Midpen ranching tenants have reported six confirmed losses of cattle to coyotes.

---

Mountain Lion

Native to California, their cryptic nature and lack of individual traits make mountain lions difficult to survey. They rely on stealth when hunting, and roughly 98 percent of the biomass they consume is deer.

A "bountied predator" from 1907-1963, thousands were killed. Proposition 117 passed in 1990 designating mountain lions as a "specially protected mammal" in California, requiring a state permit to kill. California Department of Fish and Wildlife Policy

Livestock Interaction
Mountain lions may opportunistically prey on livestock, more commonly sheep, goats or calves. They may also opportunistically scavenge on carcasses. To date, Midpen ranching tenants have reported 16 confirmed losses of cattle to mountain lions.

---

Bobcat

Bobcats inhabit a wide variety of habitats across the U.S. They primarily feed on rabbits and rodents, though they may also consume birds, insects and fawns.

Livestock Interaction
There is little evidence that bobcats pose a threat to cattle and calves, though they can be problematic for smaller livestock such as chickens.


---

Domestic Dog
Domestic dogs can pose a significant risk by killing, injuring or persistently worrying livestock.

Livestock Interaction
There have been no reported losses of livestock to domestic dogs on Midpen land, but it is an issue on other public lands.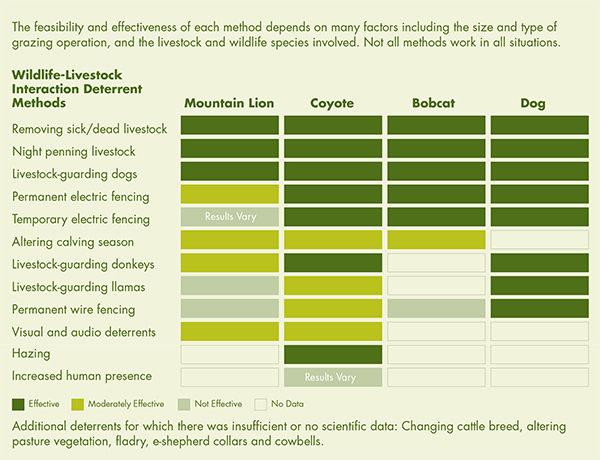 Project Partners
Contact
Please use the form below to provide project feedback and sign up for our email list.