The late 1960s were a time of rapid growth in the Bay Area. As tract housing and commercial development began to dominate the "Valley of Heart's Delight," concern for the preservation of the midpeninsula's irreplaceable foothill and bayland natural resources mounted among local residents.
Through a determined and heartfelt grassroots effort by local conservationists, the Midpeninsula Regional Open Space District was created in 1972, when the Measure R "Room to Breathe" Initiative was passed by Santa Clara County voters. The sentiment behind Measure R is as powerful today as it was then:
Measure R will preserve open space by creating the Midpeninsula Regional Park District (currently named the Midpeninsula Regional Open Space District). Open space is our green backdrop of hills. It is rolling grasslands, cool forests in the Coast Range, orchards and vineyards in the sun. It is the patch of grass between communities where children can run. It is uncluttered baylands where water birds wheel and soar, where blowing cordgrass yields its blessings of oxygen, where the din of urban life gives way to the soft sounds of nature. It is the serene, unbuilt, unspoiled earth that awakens all our senses and makes us whole again…it is room to breathe.
Measure R was approved by an overwhelming 67.71% of voters in northern Santa Clara County. Four years later in 1976, voters in southern San Mateo County elected to join the District in 1976. In 1992, the District further expanded by adding a small portion of Santa Cruz County and Coastside voters gave final approval of the Coastside Protection Program on September 7, 2004, extending the District's boundary to the Pacific Ocean in San Mateo County, from the southern borders of Pacifica to the San Mateo-Santa Cruz county line.
50 Years of Open Space Preservation
1972-81: A decade of "firsts"
The District is formed and makes its first purchases. From its early days, Midpeninsula Regional Open Space District would develop partnerships and financial practices that will help it leverage funding for significant regional purchases and projects over the next 50 years and beyond.
1972
Room to Breathe Initiative passes by 67.71% vote in Santa Clara County. Midpeninsula Regional Open Space District is officially formed.
1974
Foothills Open Space Preserve - 90 acres purchased. The very first land purchase!
1975
Residents approve Proposition D to add Southern San Mateo County to the District.
1976
Los Trancos Open Space Preserve - 274 acres purchased. This is the first purchase in San Mateo County.
1977
Peninsula Open Space Trust (POST) is formed to work in partnership with the District.
1978
Monte Bello Open Space Preserve - 750 acres purchased.
1980
Stevens Creek Shoreline Nature Study Area - 54 acres purchased. This is the first bayland purchase.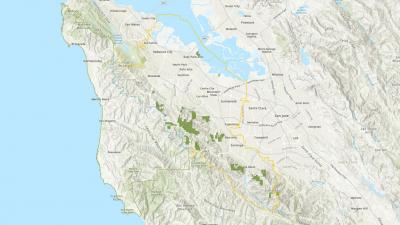 1982-91: Growing the Greenbelt
Midpen grows to 35,000 acres and makes its largest land purchase to date, the 2,200 acres that will become El Corte de Madera Creek Preserve with its majestic redwood forests. In 1986 alone, 5,000 acres of open space were preserved!
1982
 Purisima Creek Redwoods Open Space Preserve - 842-acre Whittemore Gulch Redwoods Preserve purchased. First property purchased north of Highway 84.
The District obtains conservation easement over the 240 acres of Hidden Villa. First conservation easement - the District owns 3,210 acres of conservation easements today.
1983
Pulgas Ridge Open Space Preserve - 293 acres purchased.
1986
Sierra Azul Open Space Preserve - 57 acres purchased. Includes Mt. Umunhum, the former site of Almaden Air Force Station.
La Honda Creek Open Space Preserve - 250-acre Dyer property purchased. This "jewel in the crown" property is considered by many as a gateway to the San Mateo Coast.
1988
Teague Hill Open Space Preserve established. Teague Hill was completed in two separate transactions, from two corporations with divergent development plans.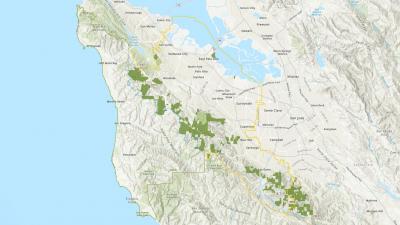 1992-2001: Enjoying Open Space
Midpen sees an enormous increase in trail use and by the end of the decade, 1 million visits are made to the preserves every year, with half of those visits to Rancho San Antonio Preserve alone!
1994
Connection between Sierra Azul Open Space Preserve and Almaden Quicksilver County Park established - 900-acre Jacques Ridge property is purchased in conjunction with Santa Clara County Parks.
1995
Sierra Azul Open Space Preserve - 1,465-acre Rancho de Guadalupe purchased.
1997
Long Ridge Open Space - 157-acre Paul property purchased with partial grant funding. Enables the district to provide a Bay Area Ridge Trail alternate, the Achistaca Trail, which provides a key connection to California State Parks' Skyline-to-the-Sea Trail
1999
Bear Creek Redwoods Preserve is established.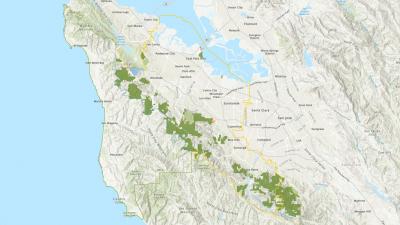 2002-2011: Green Leadership
Midpen becomes an environmental leader in research and conservation. With the appearance of Sudden Oak Death on Long Ridge Preserve, Midpen works with researchers to fight the disease. On the coastside, at-risk agricultural lands and precious watersheds are now being protected by the District.
2002
Midpen and Santa Clara County Parks complete and dedicate 11 miles of Bay Area Ridge Trail stretching from Lexington County Park through Sierra Azul Regional Open Space to Almaden Quicksilver County Park.
2003
Skyline Ridge Open Space Preserve linked to Portola Redwoods State Park.
2004
The District extends its boundaries from south of Pacifica to the Santa Cruz County line to include San Mateo Coastside lands.
2005
Saratoga Gap Open Space Preserve - 238-acre Stevens Canyon Ranch purchased. This purchase puts the District over the 50,000-acre mark of protected lands.
Miramontes Ridge Open Space Preserve - 676-acre Miramontes Ridge purchased with the help of a Coastal Conservancy grant.
2006
La Honda Creek Open Space Preserve - 3,681-acre POST Driscoll Ranch property purchased. The property was purchased at a bargain sale price of $9 million, $16 million below the District's appraised value.
2007
The District "drove the golden spike," which formally connected Los Trancos Open Space Preserve to Palo Alto's Foothills Park, creating a key connection between the Bay Trail and the Bay Area Ridge Trail. This had been a goal for more than 30 years.
2008
Russian Ridge Open Space Preserve - 1,047-acre POST Mindego Hill property purchased.
2009
Purisima Creek Redwoods Open Space Preserve 260-acre Bluebrush Canyon and 450-acres of Elkus Ranch in Half Moon Bay purchased. Both properties are important links in the District's goal to connect "Purisima to the Sea."
2011
The District secures $3.2 million in federal funding allowing efforts to clean up the former Almaden Air Force Station atop Mount Umunhum.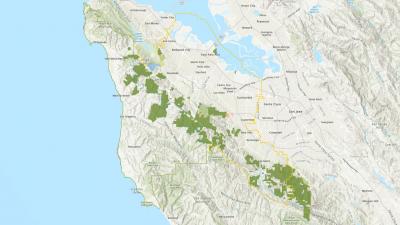 2012 to 2021: Imagining the Future of Open Space
As Midpen looks toward the future, we must steward increasingly fragile ecosystems and protect a growing number of sensitive species, while also making sure that people can access, use and enjoy their open space. To address these competing challenges, Midpen embarked on a multi-year vision plan project, which concluded in 2014. The planning process engaged over 1,500 individuals who helped determine the Future of Open Space for the next 20 years and beyond.
2012
The District's first strategic plan was adopted, laying foundation for implementation of all "three legs" of Midpen's mission.
Midpen forms its Natural Resources department, which focuses on understanding, preserving and protecting the wildlife and biodiversity within the District.
Miramontes Ridge Open Space Preserve - 676-acre Miramontes Ridge purchased with the help of a Coastal Conservancy grant.
2014
The District's first Vision Plan, looking 40 years into the future, was completed and adopted.
Measure AA, a $300M GO bond to fund the District's Vision Plan over the next 30 years was passed by the voters in June by 67.96%, which ensures the District will remain financially strong into the future.
The first Integrated Pest Management Program is adopted to ensure the most effective and least toxic methods to control pest species.
2015
The Engineering and Construction Department is formed in order to accelerate Midpen's implementation of capital projects under Measure AA.
Midpen completes the "Ridge Exchange Project," a land trade between Ridge Vineyards and the District that has been 40 years in the making.
2017
Sierra Azul Open Space Preserve – the Mount Umunhum summit opens to the public. The summit is ADA accessible and includes restored vegetation, a Native American ceremonial circle, and the former Almaden Airbase radar tower.
The Amah Mutsun Tribal band is granted a 36-acre cultural easement over the Mount Umunhum summit.
La Honda Creek Open Space Preserve is opened to the public for the first time, featuring six miles of trail through conservation grazing lands.
2018
Bear Creek Redwoods Preserve opens for public access, featuring six miles of new trail and an ADA pathway around the upper lake.
Sierra Azul Open Space Preserve – The District purchased the 153.59-acre Twin Creeks property in the Mount Umunhum area, providing opportunities for future regional trail connections, water quality protection within the Los Alamitos Creek watershed.
Midpen adopts its Climate Action Plan, with the goal of an 80% reduction in operational greenhouse gas emissions by 2050.
2019
El Corte De Madera Creek Open Space Preserve – New sections of the Oljon Trail are completed, creating a new loop opportunity and completing restoration of former logging roads and the completion of the Watershed Protection Program
Midpen launches a grantmaking program to award nearly $250,000 in support of applied science and partnership support, as well as access, interpretation and education
Midpen's Natural Resources department launches the Badger/Burrowing Owl Habitat Assessment Project, which confirms the presence of both species within various preserves
2020
Ravenswood Open Space Preserve – Midpen completes a new 0.6-mile segment of the San Francisco Bay Trail, including construction of a new boardwalk and bridge across sensitive bayland wetlands. This closes a critical regional trail gap to create 80 miles of continuous Bay Trail access
Midpen forms a Science Advisory Panel to provide independent, science-based review of key issues and serve as a resource for guiding future decisions.
Tunitas Creek Preserve – The District purchases the 540-acre Gordon Ridge Property, which supports additional watershed preservation and conservation grazing opportunities.
Midpen embarks on a multi-year study of mountain lions in Midpen preserves where reported mountain lion-human interactions are more frequent
Midpen supports the city of Saratoga in the creation of the Saratoga-to-Skyline trail
2021
El Sereno Open Space Preserve - Midpen partners with the Peninsula Open Space Trust to purchase a 182-acre property from San Jose Water Company that connects two segments of the Aquinas Trail for a future addition to the Bay Area Ridge Trail.
Midpen adopts its Wildland Fire Resiliency Program for environmentally sensitive vegetation management to promote healthy, resilient, fire-adapted ecosystems, as well as reduce wildland fire risk and facilitate the response of fire agencies.
Sierra Azul Open Space Preserve – The District acquires the 130-acre Billingsley Property as an addition to the Loma Prieta area of the Sierra Azul Preserve, facilitating the proposed Mount Umunhum-to-Sea regional trail corridor.
Rancho San Antonio Open Space Preserve – The District completes the rehabilitation of the Deer Hollow Farm White Barn, to preserve an important historic and interpretive asset.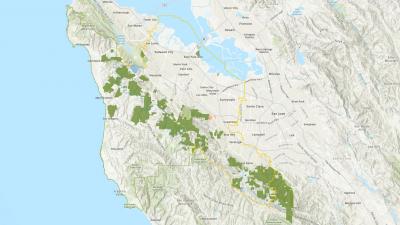 2022 and Beyond: From 50 to Forever
As we celebrate our 50th Anniversary, we continue looking toward the future as we embark on projects that will sustain our open spaces and native species in perpetuity.
Preserving over 65,000 acres and growing.