Fall 2016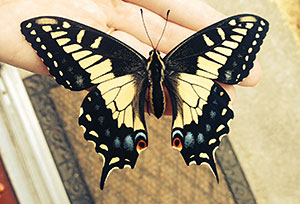 When I was about two years old, I watched an anise swallowtail butterfly emerge from a chrysalis. Since then, I have had the deep satisfaction of observing many creatures on a very personal level: from first flight, slither or hop through building a nest, raising young or laying an egg on a leaf to the time when the frost comes, signaling migration or death. My first interest is always figuring out what species they are. A local field guide along with personal observation and, in some cases, crowdsourcing by citizen scientists can help determine if it's a house finch or a purple finch, a Lorquin's admiral or a California sister, a western fence lizard or a sagebrush lizard.
The more you watch wild creatures, the more you discover who they are. Some, like birds and mammals—and oddly enough toads and turtles—seem to have personalities of their own. The more you observe nature and the individual organisms that comprise it, the more personal these organisms become and the more vested you are in their survival. Each of Earth's millions of species contribute to the great web of life in ways that are still being discovered. They all play a role in the life support system that sustains them and us. This idea is illustrated by the Rivet Popper theory put forward by Stanford population biologist Paul Ehrlich. To paraphrase, if one imagines the ecosystem as an airplane and the species as rivets holding it together, how many rivets can be popped off before the airplane falls out of the sky?
It is not only great scientists like Dr. Ehrlich who are gathering the data needed to understand and protect the species we care about, but all of us who contribute as citizen scientists simply by spending time observing nature and reporting what we see. When you walk along a trail, day after day, or sit quietly by a stream, you begin to notice patterns: the deer go to the stream to drink at a certain time, the checkerspot caterpillars appear on the Indian paintbrush for certain weeks during the year, the band-tailed pigeons become very tame just as the blue elderberries ripen. As more of you visit the preserves, your accumulated observations are being reported to us with greater frequency, including through a free citizen science app called iNaturalist.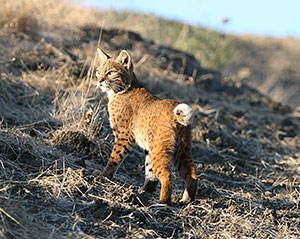 At Rancho San Antonio many have delighted in frequently seeing the same bobcats near the parking lot. Around 2009, we began observing and receiving reports that some bobcats were mangy and less active. They were suffering from notoedric mange, a fatal malady caused by exposure to anticoagulant rodenticides in poisoned mice and rats. In response, Midpen supported regulations that banned over-the-counter use of these powerful poisons. Slowly, the bobcats are returning. Here a "rivet" was about to pop off and we knew about it because people statewide were sharing observations.
Today, my wife who shares my fascination with nature's many miracles, is at home where three anise swallowtail caterpillars and one chrysalis can be found on our dining room table. I look forward to her text message with a picture of the newly emerged butterfly. I also look forward to learning about what you're observing as citizen scientists on the open space preserves. Through the strength of crowdsourcing, your observations are helping us more quickly identify and respond to changes in natural systems, and, ultimately, to better understand and protect these essential lands and the life they support.

Stephen E. Abbors
General Manager