Summer 2016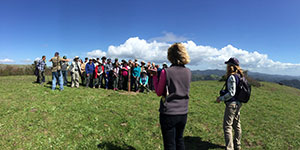 This past spring, we were honored to open Mindego Hill at Russian Ridge and to partner with the City of East Palo Alto to celebrate the opening of its Educational Center at Cooley Landing, adjacent to Ravenswood. We opened Mindego Hill on a beautifully clear March afternoon, with the sparkling San Mateo Coastside as our backdrop, and were joined by 120 nature lovers who came together to celebrate the opening of this jewel. Two weeks later, we joined with 300+ community members and the City of East Palo Alto to celebrate the grand opening of the Cooley Landing Educational Center, a truly extraordinary facility, with curved walls reminiscent of a whale's back and inspirational views of a clean bay. As different as the two locations are—one nestled in the mountains and the other, along the bay—I was struck by how much they have in common.
Both were important sites for the Ohlone peoples who planted gardens near Mindego Hill and who fished at Cooley Landing. Later, both sites were maximized and used as economically productive sites, either for cattle grazing or as a boatworks, and both had been used as a dump, though of vastly different sizes and scales.
In both cases, we were able to accelerate nature's healing process. Generally, we do that by limiting invasive species, removing unsafe and dilapidated structures or materials, replanting, and cleaning streams and waterways. Occasionally, in only the rarest of cases, do we need to take the dramatic additional step of reclaiming the land—that is, to create the land that once was, so we can then restore it. That is exactly what we're doing to open the summit of Mount Umunhum in Sierra Azul.
Starting in 1957, the summit was used as an Air Force station, when it served as part of an extensive Cold War-era air defense strategy. The natural contours of the mountain were removed along with the mountaintop, and the habitat for many unique species disappeared.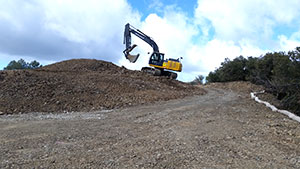 Our vision for Mount Umunhum is to restore the summit as much as possible to its natural condition. To do that, we have studied the pre-military appearance of the mountain and are using heavy equipment to retrieve the soil and rock material that was pushed down slope to flatten the ridge. This first step, known as landform restoration, will establish a new ridgeline and more natural drainage contours, but initially leaves a barren landscape. The next step is to ensure that the soil material is appropriate for native plants to thrive. Generally speaking, it takes 100-500 years for nature to produce one inch of topsoil. So, in the space of two short years, we seek to achieve that same result and to restore the mountain to much more closely resemble its natural condition. Our partners in the restoration are members of the Amah Mutsun Tribal Band, the original stewards of Mount Umunhum and the people who named it.
By accelerating those time scales, we can enjoy a place like Cooley Landing, which was once a city dump and is today, a healthy marshland where the endangered Ridgway's (née California Clapper) rail is staging a comeback. We can picnic at Mindego Hill, and enjoy a pristine natural environment where livestock contribute to the health of the land, and we will all have the once-in-a-lifetime experience of seeing a mountain, our great Mount Umunhum come to life once again.

Stephen E. Abbors
General Manager