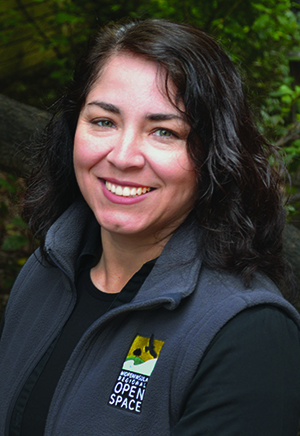 Midpen's public open space lands are preserved in perpetuity by and for the people. Forty years after a successful grassroots effort created Midpen, community members came together again and established a vision guiding Midpen's next 40 years of land preservation, environmental stewardship and public enjoyment and education. Voters funded much of that vision by passing Measure AA in 2014.
We are now celebrating five years of voter-approved Measure AA accomplishments, which is a perfect opportunity to reflect on why this community investment in public open space matters.
Public lands contribute to healthy communities.
Midpen preserves provide clean air, water and local food to surrounding communities. They are also free and open daily providing the public with refuge from urban areas where they can decompress, reenergize and find "room to breathe". Study after study shows that spending time in nature provides physical, emotional and mental benefits.
Public lands enhance our region's resiliency to climate change.
Preserved forests are the earth's lungs, pulling carbon out of the atmosphere while simultaneously creating a cooling effect. Open space lands also allow native plants and wildlife to seek livable habitats in response to changing conditions, and buffer surrounding communities from floods and wildland fires.
Public lands allow plants and wildlife to thrive.
The Santa Cruz Mountains are a biodiversity hotspot, meaning they are home to some of the most diverse and abundant native plants and animals in the world — many of which live nowhere else on earth. They thrive in our region's preserved open spaces including redwood forests shrouded in summer fog, coastal grasslands, marshy baylands, chaparral-covered ridgelines and mountain peaks.
Your Measure AA investment is more than the sum of its parts. Taken as a whole, these preservation, restoration, public access and agricultural vision plan projects strengthen the fabric and health of our community for everyone. Thank you for your continued support.

Ana María Ruiz
General Manager