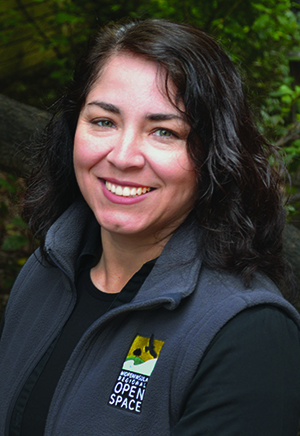 A year ago, most of us darted about in our busy-ness, largely detached from the natural world, save for the occasional weekend hike or vacation trip to the mountains or beach. Then came the pandemic and the world as we knew it stopped.
From that ensuing darkness shines at least one bright spot: the lengthy shelter-at-home orders, designed to protect our collective health, gave us more time to reset, reflect and reconnect with the great outdoors. Visitors flocked to local trails in record numbers; typical weekend traffic doubled in Midpen's more popular preserves as people discovered, or rediscovered, our magnificent trails (245 miles and counting!).
Perhaps we started getting outside because it was the only thing to do, or because it offered a safe way to escape the confines of our indoor walls. Perhaps it was for physical exercise to ward off the "COVID-15" or find solace and comfort to alleviate the shock, fear, anxiety and lingering stress. No matter our prompt, we all sought relief in the regenerative effects of human-nature connection.
The nature we perhaps had taken a bit for granted, is now front and center. We see it as essential, and we recognize that, beyond recreation and public health benefits, our public lands represent an opportunity to reimagine our natural spaces as providing essential nature-based services.
When we recognize and protect the ecological processes that support the very existence of life on earth, we increase our resilience to climate change and catastrophic wildland fire events. The conservation, restoration and care of wetlands ensures clean water and flood protection. The conservation, restoration and care of grasslands and forests ensure clean air and carbon sequestration. By linking habitat and connecting open space areas, we protect the vast array of endemic species that make our region one of the world's top biodiversity hotspots. Many of our region's most iconic wildlife, like mountain lions, bobcats, coyotes and the elusive American badger, are wide-ranging and need large areas of connected habitat to thrive.
On the Coastside, the ecological processes of nature are sustained in both natural and working lands through Midpen's work in preserving agricultural, open space and watershed land of regional significance, and encouraging viable agricultural uses of land resources. We are sustaining local food sources and preserving the rural character of our beloved Coastside as we continue to stitch together a continuous greenbelt of open space lands for wildlife connectivity across the broader landscape.
As the acres of protected habitat increase, we are solidifying safe corridors for wildlife to seek refuge, new food sources and future mates. We do this work in collaboration with our nonprofit partner, the Peninsula Open Space Trust, to ensure that prime agricultural lands remain under the care of farming families and that the natural values of surrounding steeper, upland areas and nearby creek corridors are forever preserved.
As we rise and move forward with this new year, let us keep nature in the forefront to remind ourselves of the many essential services that nature provides us each and every day.
Ana María Ruiz,

General Manager