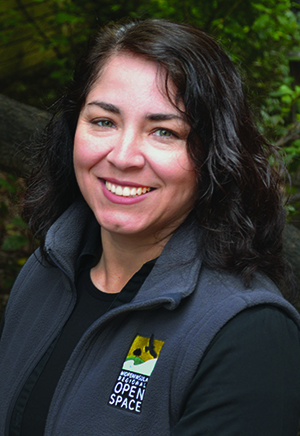 In its infancy, Midpen focused primarily on the foundation of our mission: preserving a regional greenbelt forever. Nearly half a century later, with a crown of public open space ringing the Bay Area, we have successfully matured into a more balanced delivery of our full mission that also includes restoring protected lands, providing opportunities for public enjoyment and preserving rural character and agricultural lands along the San Mateo County Coast.
Midpen now manages 100 square miles of diverse and dynamic natural and working lands encompassing bay wetlands, redwood forests, serpentine grasslands, oak woodlands and more. Thousands of native plants and animals, many found nowhere else on earth, make their home here—an incredible abundance that makes California one of the top biodiversity hotspots in the world. Caring for these lands is a responsibility Midpen staff are passionate about and a value we are grateful to uphold.
Today, our challenge is to care for the ecological health and function of these landscapes that have been shaped by a long history of natural processes and human influences. At Midpen, we do this using a range of passive and active land management approaches.
For example, one way we actively protect 8,000 acres of coastal grasslands—one of the most biodiverse ecosystems in North America—is by partnering with a handful of small-scale, local ranchers using conservation grazing. California native grasslands evolved with periodic fire and herds of native grazing animals no longer present on the landscape. The biodiversity of these grasslands benefits from periodic disturbances to prevent encroachment by introduced species, shrubs and forest.
To achieve our conservation goal of protecting coastal grassland for native plants and animals, we require ranchers to follow site-specific prescriptions that limit the number, duration and location of cows and are adjusted based on changing environmental conditions like drought. This type of carefully managed conservation grazing has been shown to benefit many of our native grasses and wildflowers, and in turn the wildlife, birds and threatened or endangered species like San Francisco garter snakes that depend on grassland habitat.
Another example of how we work with community organizations and volunteers to actively care for the land is our partnership with Golden Hour Restoration Institute. Together, we have reintroduced more than 1,000 native plant seedlings to Mount Umunhum's restored summit, formerly the site of an Air Force station.
With your support, Midpen, together with our partners and the larger community, can continue fulfilling our balanced mission. By doing so, we help sustain the vibrancy, beauty and health of our region for plants, animals and people.
With much appreciation,

Ana María Ruiz
General Manager