Spring 2017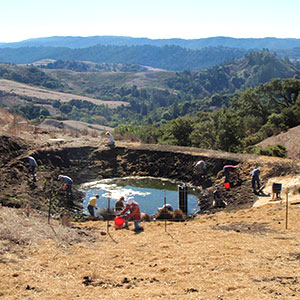 Lately, I have been thinking beyond what we do here at Midpen – the acquisitions, the projects, the preserve openings – to focus on the reason behind why we do this work. Open space provides a home for our area's diverse flora and fauna. It is a beautiful place to rest our eyes and also to visit and find refuge from urban life, a place where our physical, emotional, and even spiritual health is renewed. These are important purposes to be certain, but I believe the essential reason for doing this work goes even deeper: it sustains all life, including our own.
The environment, or nature, or however you choose to refer to it, is the life support system for our planet. It includes the green plants like trees and grasses, the soils in which they grow, and the deer and rodents that consume them, the streams and ponds and the fish and amphibians that live in them. The environment is not separate from us, something to only gaze at or play in. We are permanently entwined in the complex web of life in nearly every way imaginable.
Every species on earth depends on the environment for all of their needs, and we are no exception. Uniquely powered by sunlight, plants that make up the forests and fields are the lungs of the earth, producing the oxygen we inhale and capturing the carbon dioxide we exhale. Soil and countless microorganisms living in it grow the crops we eat, and the grasses that feed our livestock. Streams provide us with clean water to drink. Frogs and toads that live in those streams consume the insects that damage our crops. Deer control the brush, enrich the soil, and sometimes eat our roses! The interdependencies and connections, which have evolved over millennia and are too numerous to count, have been drastically altered by human civilization. The ability of our neighborhoods and urban areas to function as the life support system is largely gone. However, there is good news.
In his 2016 book Half Earth, Pulitzer Prize-winning Harvard biologist E.O. Wilson proposes an achievable plan to save the biosphere (the life support system) by devoting half of the earth's surface to nature. "I believe that the ten billion people expected to be present at the end of the century will enjoy a far better quality of life if we conserve half of the planet for nature than if we consume nature entirely," he wrote. Midpen and our sister agencies are collectively doing our local part in this global issue by pursuing the long-term goal of protecting two million acres of land in the Bay Area. This work began a century ago and today is being carried out by a broad coalition of public and private organizations that have so far protected over 1.2 million acres of forests and watersheds, grasslands and farmlands, estuaries and coastal bluffs that encircle the population centers of the nine Bay Area counties.
You know these permanently protected lands that we enjoy in so many ways as the Golden Gate National Recreation Area, San Mateo and Santa Clara County Parks, California State Parks, Santa Clara Valley Open Space Authority, Peninsula Open Space Trust, Midpen and nearly 60 others. Though our missions vary at the heart of our work is a crucial common goal: protecting and helping to mend nature, our life support system.
So the next time you visit an open space preserve and see us at work controlling invasive weeds, managing livestock, maintaining trails, repairing ponds, or restoring creeks, you'll
have a better understanding of what we're doing and, I hope, a sense of contentment from knowing that the land we protect and take care of, in turn takes care of all of us.

Stephen E. Abbors
General Manager