Search for wildflowers, try a new trail and find out the many ways we preserve and care for open space lands.
There are three ways to enjoy the quarterly newsletter: flip through the online version, scroll below to read, or download a pdf.
---

A Treasure Hunt for Wildflowers
Hundreds of wildflower species grow in Midpen preserves. From brilliant stands of California poppies to small clusters of blue-eyed grass, you can see blooms from early spring through late winter. Midpen's preservation and care of open space land is improving native wildflower habitat in many of our preserves.
The spring wildflower season changes each year depending on many factors such as the timing and amount of winter rains and warm weather. We can't predict exactly where and when you can see flowers, but we can tell you what you might see. Follow us on Facebook, Twitter and Instagram for the latest news.
Also, for the past 12 years, staff and volunteers have been conducting surveys to document and study the wildflower population in Sierra Azul Preserve. Last year's count identified more than 130 flowering species, including seven species of rare or endangered plants such as Santa Clara red ribbons clarkia and woodland woolythreads.
Leave no Trace

Wildflowers can be fragile. Please follow these guidelines so everyone can enjoy their beauty.

Take photos not flowers. Wildflowers wilt quickly after picking and can't be transplanted. Picking wildflowers also prevents them from going to seed, limiting future wildflowers.
Stay on established trails and take photos OF flowers not IN flowers. Venturing off trail damages existing blooms and prevents the next generation from growing.
---
A Message from the General Manager
Preserving and Caring for 100 Square Miles of Natural and Working Lands
In its infancy, Midpen focused primarily on the foundation of our mission: preserving a regional greenbelt forever. Nearly half a century later, with a crown of public open space ringing the Bay Area, we have successfully matured into a more balanced delivery of our full mission that also includes restoring protected lands, providing opportunities for public enjoyment and preserving rural character and agricultural lands along the San Mateo County Coast.
Midpen now manages 100 square miles of diverse and dynamic natural and working lands encompassing bay wetlands, redwood forests, serpentine grasslands, oak woodlands and more. Thousands of native plants and animals, many found nowhere else on earth, make their home here—an incredible abundance that makes California one of the top biodiversity hotspots in the world. Caring for these lands is a responsibility Midpen staff are passionate about and a value we are grateful to uphold.
Today, our challenge is to care for the ecological health and function of these landscapes that have been shaped by a long history of natural processes and human influences. At Midpen, we do this using a range of passive and active land management approaches.
For example, one way we actively protect 8,000 acres of coastal grasslands—one of the most biodiverse ecosystems in North America—is by partnering with a handful of small-scale, local ranchers using conservation grazing. California native grasslands evolved with periodic fire and herds of native grazing animals no longer present on the landscape. The biodiversity of these grasslands benefits from periodic disturbances to prevent encroachment by introduced species, shrubs and forest.
To achieve our conservation goal of protecting coastal grassland for native plants and animals, we require ranchers to follow site-specific prescriptions that limit the number, duration and location of cows and are adjusted based on changing environmental conditions like drought. This type of carefully managed conservation grazing has been shown to benefit many of our native grasses and wildflowers, and in turn the wildlife, birds and threatened or endangered species like San Francisco garter snakes that depend on grassland habitat.
Another example of how we work with community organizations and volunteers to actively care for the land is our partnership with Golden Hour Restoration Institute. Together, we have reintroduced more than 1,000 native plant seedlings to Mount Umunhum's restored summit, formerly the site of an Air Force station.
With your support, Midpen, together with our partners and the larger community, can continue fulfilling our balanced mission. By doing so, we help sustain the vibrancy, beauty and health of our region for plants, animals and people.
With much appreciation,


Ana María Ruiz
General Manager
---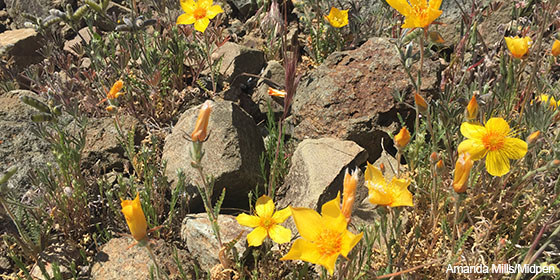 Mount Umunhum's Restoration Continues
Mount Umunhum's Summit opened to the public in 2017, and while thousands of people have visited and taken in the majestic views, staff are still hard at work behind the scenes restoring its native vegetation. For the past three years, staff and hundreds of volunteers have installed thousands of native plants as part of a multi-year vegetation restoration plan. Native plants are better adapted to the challenging conditions and support a wide variety of wildlife including birds, lizards, bees, dragonflies and butterflies. Some of the native plants that have been installed include rock buckwheat, California fuscia, golden yarrow and several tree species including canyon live oak and grey pine.
"Plants are much slower to get established up here due to extreme weather conditions, elevation and rocky soils. I call this extreme rock gardening," says Midpen Resource Management Specialist Amanda Mills. "One of my favorite things about the summit restoration is bringing people up to share the history and uniqueness of the site as well as the biodiversity of flora and fauna."
Mount Umunhum is home to 362 plant species, many of which are considered special status or locally rare. Mount Umunhum's summers are very hot and dry, and its winters often bring heavy rains, gale force winds, frost and sometimes snow. The influences from geology, elevation, exposure to extreme elements, fire history and water availability have resulted in five unique plant communities and habitats. The summit includes serpentine and sandstone outcrops and soils which are extremely rocky calling for a different restoration approach. Extra effort is being made to rebuild soil by incorporating pathogen-free and weed-free compost and undisturbed native soil from nearby that have beneficial nutrients and mycorrhizae (fungi) to give the installed seedlings the best chance for survival.
"There are not a lot of opportunities to restore mountain summits, especially in the Bay Area, so it's been an extremely valuable and rewarding experience for staff, volunteers and our partners to see the transformation of this mountaintop over the past few years," says Mills. Midpen, in partnership with Golden Hour Restoration, will complete a fourth phase of native plant installations this fall, and will continue to collect native seeds for direct sowing over the next few years while maintaining and monitoring the site to ensure the vegetation restoration is successful.
Please respect restoration fencing—even if you can't see them, it doesn't mean they're not there—walking in restoration areas compacts the soil and makes it harder for seedlings to germinate.
---

Caring for Coastside Watersheds
Local creeks were once plentiful with silvery runs of trout and salmon migrating upsteam from the ocean. Today, local steelhead trout are threatened and coho salmon are endangered. When Midpen recently acquired a new area of La Honda Creek Preserve with frontage along San Gregorio Creek, we saw an opportunity to care for its remaining habitat and help these fish survive and thrive.
Inspired by successful projects in the Pacific Northwest, Midpen anchored strategically placed logs into a half-mile stretch of San Gregorio Creek. This project was supported by voters who passed Midpen's Measure AA, our friends at the San Mateo Resource Conservation District (RCD) and grants from California's Coastal Conservancy and Department of Fish and Wildlife (CDFW).
For these fish, reintroducing logs to the creek is a matter of survival. Logs create protective eddies where fish can retreat from fast-moving water. They alter the flow of water so that it flushes sediment from gravel streambeds where steelhead and salmon lay their eggs. Logs also create deep, cool pools fish need to survive during the dry season and they provide cover from predators.
With the project complete, the RCD continues monitoring creek conditions while CDFW is tracking fish populations in the watershed.
"Before, we rarely saw fish here," Midpen Senior Resource Management Specialist Aaron Hébert said. "Now we're regularly seeing fish in the newly created pools."
---

Spotlight: Picchetti Ranch Preserve's Zinfandel Trail
If you love Rancho San Antonio, you'll love Picchetti Ranch Preserve. Like Rancho, there is plenty to look at and the trails are mostly level. Several loop trails gain a mere 350 feet in elevation to a knoll providing excellent views of the Santa Cruz Mountains, Santa Clara Valley and San Francisco Bay.
Picchetti Ranch, located in the foothills of Cupertino, is situated on the grounds of an old winery and farm. The historic winery, located next to the parking lot, features a house and ranch buildings, picnic tables, a bubbling seasonal creek and a collection of peacocks and chickens.
Beyond the winery, a small network of trails wander through native oak woodlands, chaparral, remnant orchards and forested canyons to a hilltop with views of Stevens Creek Reservoir.
What to Expect

Picchetti Ranch's forested canyons of madrone, coast live oak and California bay provide shade on a warm day. On a clear day, the Sierra Azul range, crowned by Mount Umunhum, is visible to the south through a break in the trees. The Zinfandel Trail ducks into the forest, crossing seasonal creeks eventually connecting Picchetti Ranch Preserve with nearby Stevens Creek County Park, managed by Santa Clara County.
Plan a visit to Picchetti Ranch Preserve
---

Explore Your Open Space with Free Activities this Spring
If you're looking to explore a new preserve a docent-led activity is a great place to start. There are over 50 FREE docent-led activities this spring—come out and join us!
See all of our spring activities
---
Meet Rolo, Midpen's Gopher Snake
Rolo is a 2-year-old gopher snake that came into Midpen's care in July 2019. He was rescued from the Vallejo area and now serves as an animal education ambassador for children and adults alike. Rolo is fed and cared for by Midpen staff and docents at the Daniels Nature Center, located at Skyline Ridge Preserve. Gopher snakes are nonvenomous and are commonly found on the West Coast. They feed on small mammals such as mice, ground squirrels and gophers. Gopher snakes play an important role in the ecosystem by helping to keep rodent populations under control. To see Rolo, visit the Daniels Nature Center on the weekends after it reopens April 4.
---
Photo Contest
Our annual photo contest begins on March 1!
Categories: Landscapes, People in Nature, Plant Life, Wildlife and Aspiring Photographers (students in 6-12 grade)
Prize: One winner in each category will receive a $100 REI gift card and a Midpen swag bag.
Entries: Contest runs March 1 - May 31, 2020. All photo submissions must be taken in areas of Midpen preserves that are open to the public.
---
2019 Donation Acknowledgments
Donations and gifts from these generous individuals and organizations help protect and restore open space, and enhance visitors' experience in the preserves.
2019 Donation Acknowledgements
---
Living with Mountain Lions
We share the Santa Cruz Mountains with mountain lions and other wildlife. Typically, mountain lions are seldom seen because they are more active at dusk, dawn and overnight and tend to avoid areas of human activity. If you do encounter a mountain lion on the trail, know what to do: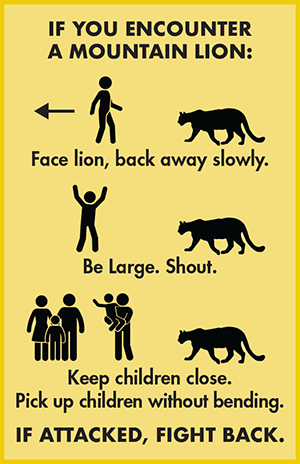 Recently, at Rancho San Antonio, a 6-year-old child was attacked by a mountain lion while hiking on a trail with a group of family and friends. Fortunately, an adult was close enough to quickly shove the mountain lion away and the child's injuries were minor. Unfortunately, the specific circumstances of this attack qualify as unusual behavior for the mountain lion, indicating a danger to public safety. The California Department of Fish & Wildlife manages mountain lions and other wildlife across the state, even on Midpen preserves. CDFW officials were able to locate and trap the cat and used DNA evidence to determine it was the same mountain lion that attacked the child. Because a mountain lion exhibiting behavior that makes it a danger to people cannot be safely relocated, CDFW officials made the decision to euthanize the lion. Rancho San Antonio has since reopened.
Please stay safe and aware of your surroundings at all times while enjoying the outdoors, and report all mountain lion sightings at Rancho to Midpen rangers at 650-691-2165 so we can monitor for unusual activity.