Background
Hawthorns, a 78-acre historic estate named for a hedge once lining its boundary, is one of the last remaining islands of open space in residential Portola Valley. The property was generously gifted to Midpen in 2012 and is now part of Windy Hill Open Space Preserve.
Midpen is currently exploring the feasibility of introducing public access to the western area of the property, including the possibility of a small parking area and loop trail that would connect with the Town of Portola Valley's Alpine Road Trail. Hawthorns' rolling grasslands, oak woodlands, evergreen forests and year-round flows in Los Trancos Creek support a diverse community of plants and wildlife.
The property was originally developed in the late 1880s as a summer estate, and its historic buildings are the subject of a separate planning process. A Preliminary Use and Management Plan for Hawthorns was approved by Midpen's board of directors on May 23, 2012. For more information visit the Hawthorns Historical Complex page.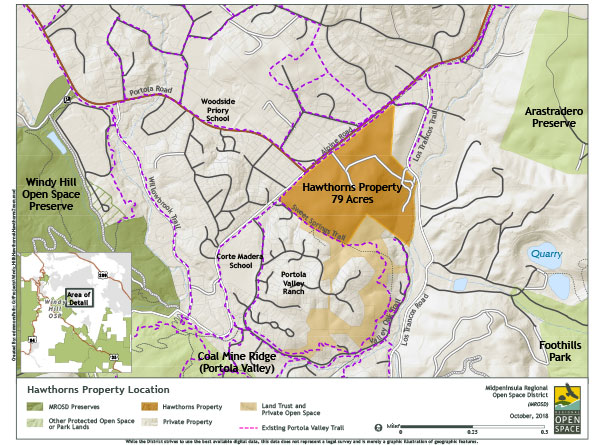 Project Schedule
2017-2018: Existing conditions analysis, feasibility studies
December 11, 2018 (Tentative): Community Meeting: Public Access Plan Vision and Goals
2019: Stakeholder Working Group formation, alternatives development
2020: Environmental review, Board considers approval of public access plan
2021: Initiate design and secure permits
Funding
Developing a new trail in the Hawthorns area of Windy Hill Open Space Preserve and opening it to public access is a project identified in Midpen's Vision Plan Portfolio #6, and is supported by voter-approved Midpen Measure AA funds.