Contact | Highlights | Funding | Timeline

When built, the long-envisioned Purisima-to-the-Sea Trail will link the California Coastal Trail to the Bay Area Ridge Trail, allowing open space visitors to travel on trail between the Pacific Ocean, through grassy ridgelines, canyons and forests, to the ridgeline of the Santa Cruz Mountains.
The Purisima-to-the-Sea Trail will eventually be part of the larger 40-mile Bay to Sea Trail, an envisioned but not yet realized regional trail that would connect the San Francisco Bay to the Pacific Ocean.
Work started in early 2021 to begin planning the Purisima-to-the-Sea Trail and parking area. There will be multiple opportunities throughout the project for public input. To stay informed, please sign up for our email list below.
Contact
---
---
Highlights
Planning Process
The multi-year planning process will include identifying the project goals in alignment with Midpen's coastal mission, a feasibility study and robust community engagement with project stakeholders. Conceptual designs would then need to go through an environmental review and public process followed by design development, permitting and construction.
Project Components
The specific components of the Purisima-to-the-Sea Trail and parking area project are:
Approximately 5 miles of new trail linking to the existing Purisima Creek Redwoods Open Space Preserve trail system.
New parking area and trailhead.
Connector and roadway trails linking to the California Coastal Trail.
This project creates an opportunity to create improved parking capacity for coastal and preserve access in the area.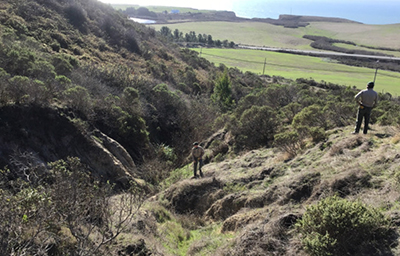 Multimodal Access Study
Midpen will be conducting a separate and parallel multimodal access study across the entire Purisima Creek Redwoods Open Space Preserve to identify strategies for managing parking and visitation demand. The results of the multimodal access study will help inform the Purisima-to-the-Sea Trail and parking area project.
Funding

Planning the Purisima-to-the-Sea Trail is possible thanks to the support of local voters, and public and nonprofit conservation partners, including:
Peninsula Open Space Trust (POST): Midpen's public-private partnership with POST enabled the open space land required for the trail to be preserved over many years.
California Coastal Conservancy: Awarded Midpen a $300,000 grant to fund the initial feasibility studies in 2021. Future grants to support the project will be sought.
Measure AA: 30-year, $300 million bond passed by local voters in 2014 to support Midpen's community-created Vision Plan top 25 priority projects, including this one.
Timeline
| | |
| --- | --- |
| 2004 | Midpen boundaries expand to include the San Mateo County Coast after a vote by residents. |
| 2004-2020 | Midpen works in a public-private partnership with POST preserving a corridor of open space from Purisima Creek Redwoods Preserve to the coast. |
| 2021-2022 | PHASE 1: Feasibility studies and public planning process with support from Coastal Conservancy grant and Measure AA funds. |
| Summer 2021 | Opportunities and constraints analysis, technical studies and focus groups. |
| Fall 2021 (TBD) | Public Workshop: Presentation of opportunities and constraints, identification of project goals and scope with Midpen board of directors. |
| 2022 (TBD) | Public Committee Meeting: Review draft conceptual design options with Midpen board committee. |
| 2022 (TBD) | Public Board Meeting: Review draft conceptual design options with Midpen board of directors. |
| TBD | PHASE 2: Environmental review and public comment process. |
| TBD | PHASE 3: Design development and permitting. |
| TBD | PHASE 4: Construction. |