Overview | Fuel Reduction | Current Projects | Recent Examples | CZU Fire | Partners
Ongoing Prevention, Preparation and Response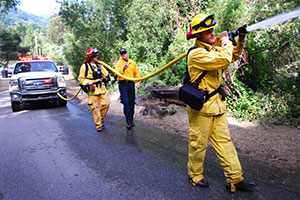 Though wildland fires seldom start in Midpen preserves, our staff work year-round to prevent, prepare for and respond to fire by:
Maintaining hundreds of miles of fuel and fire breaks and fire roads throughout our preserves, some of which are used as emergency ingress and egress routes for neighbors.
Annually training Midpen field staff as fire first responders
Outfitting ranger trucks with water pumpers during fire season
Reducing vegetation using conservation grazing on more than 8,000 acres on the San Mateo County Coast
Enforcing regulations against smoking, fires and guns in the preserves
Fuel Reduction Through Vegetation Management
Midpen's vegetation management projects are a key component of our wildland fire resiliency work that helps provide the following regional benefits:
Reduces wildland fire severity
Improves ecological health
Increases public safety
Many factors, including a changing climate and a history of fire suppression are creating longer, more intense fire seasons. Midpen works to combat these challenges and care for public land through ongoing wildland fire prevention, preparation and response. Our vegetation management is done in an ecologically sensitive manner by performing biological surveys before work begins, protecting sensitive plant communities, prioritizing removal of invasive species over native species and continued monitoring for several years.
Current Projects
Coal Creek Preserve Shaded Fuel Break
Dates: Mid-February through May 2021
Hours: Monday – Friday, 8 a.m. to 5 p.m., excluding holidays
Contact: Phil Stevens, phil@overstorylandstewardship.org, 510-207-9493
We are creating 2.5 miles of new shaded fuel break along Coal Road, Clouds Rest Trail and a portion of Crazy Pete's Road (project map and trail conditions). A California Conservation Corps crew is performing this work thanks to a Proposition 68 grant for $232,358 with $306,000 provided by Midpen. This is a high priority fuel reduction project in Cal Fire's Community Wildfire Protection Plan (CWPP 2018, p.85) that was created with public input and is also supported by Supervisor Don Horsley, San Mateo RCD and the South Skyline FireSafe Council. The work is being done under Midpen's integrated pest management program EIR.
Shaded fuel breaks remove ladder fuels and reduce vegetation density while maintaining as much tree canopy as possible to slow and reduce the intensity of potential wildland fire. The work will be protective of the natural environment including surveying for plants and animals, protecting sensitive plant communities, prioritizing the removal of nonnative plants and ongoing biological monitoring.
Sign up to stay informed via email about this and other Midpen projects.
Recent Examples
In 2019 and 2020, Midpen maximized our ongoing environmentally sensitive vegetation management, often with partners including local fire agencies and conservation corps. Here a few examples of some of our recent projects:
Eucalyptus removal to maintain critical evacuation route along Page Mill Road in partnership with the City of Palo Alto and Santa Clara County FireSafe Council
New and maintenance of existing defensible space in Windy Hill Preserve near Alpine Road and The Sequoias retirement community, including the removal of several eucalyptus trees
Maintenance of existing fuel break in Monte Bello Preserve along Page Mill Road
New defensible space behind horse paddocks at Bear Creek Stables in Bear Creek Redwoods Preserve
New and maintenance of existing shaded fuel break and defensible space in Pulgas Ridge Preserve

CZU Fire Response
Learn how Midpen responded to the CZU Lightning Complex fires in this oral presentation by Midpen staff at a special public meeting of the Midpen board of directors on October 28, 2020.
Partners
Midpen staff work cooperatively with neighbors, fire agencies and regional fire safe councils on fire prevention and preparedness efforts. The California Department of Forestry and Fire Protection is the agency in our region that is responsible for fire suppression. Cal Fire's role is supplemented by local fire departments (such as Palo Alto, Woodside Fire Protection District, and Santa Clara County) as well as by statewide mutual aid agreements for large wildland fire events.
Learn more about Midpen's wildland fire prevention, preparation and response.