Overview | Current Projects | New Work | Prepare | Environment | Partners | Email List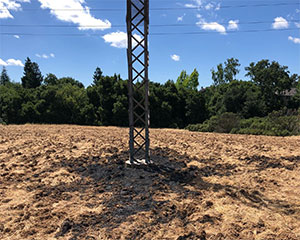 Wildland fire prevention, preparation and response are central to Midpen's land stewardship. California's fire season is now longer and more intense due in part to dense regrowth of historically logged forests, more than a century of fire suppression and a changing climate. To meet these growing challenges, Midpen is expanding our Wildland Fire Resiliency Program to do more environmentally sensitive vegetation management.
Join our email list to stay informed.
Ongoing Prevention, Preparation and Response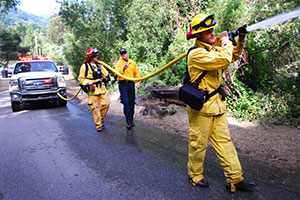 Though wildland fires seldom start in Midpen preserves, our staff work year-round to prevent, prepare for and respond to fire by:
Maintaining hundreds of miles of fuel and fire breaks, and fire roads throughout our preserves, some of which are used as emergency ingress and egress routes for neighbors.
Annually training Midpen field staff as fire first responders
Outfitting ranger trucks with water pumpers during fire season
Reducing vegetation using cattle grazing on more than 11,000 acres
Enforcing regulations against smoking, fires and guns in the preserves
Current Projects
This year, Midpen expanded our ongoing vegetation management by 250 acres. Local fire departments helped us identify high-priority projects in wildland urban interface (WUI) to focus on, including:
New and maintenance of existing defensible space in Windy Hill Preserve around Hawthorns Mansion and near The Sequoias retirement community in Portola Valley (completed spring 2019)
Maintenance of existing fuel break in Monte Bello Preserve along Page Mill Road (completed summer 2019)
New defensible space behind horse paddocks at Bear Creek Stables in Bear Creek Redwoods Preserve (beginning fall 2019)
New shaded fuel break in Bear Creek Redwoods Preserve along Bear Creek Road (beginning fall 2019)
New and maintenance of existing shaded fuel break along the Hasslet Trail in Pulgas Ridge Preserve (spring 2019-ongoing)
New defensible space around residence in Windmill Pasture area of Rancho San Antonio Preserve (beginning fall 2019)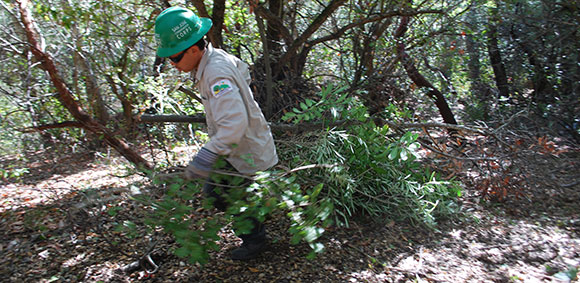 New Work: Expanding Vegetation Management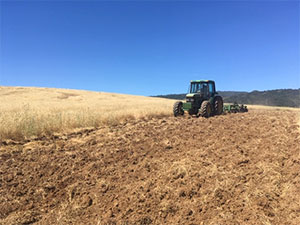 A required environmental impact report is underway now to allow us to expand vegetation management into new areas of our preserves beginning in 2020, and to reintroduce prescribed fire to Midpen's land management toolbox in 2022. We are also updating and expanding fire preplan maps for our preserves. These maps provide critical information to fire agencies responding to wildland fire events who are often from out of the area and need accurate, hyperlocal information immediately. There are many opportunities for you to provide input on our expanding program.
Email List

Sign-up here to stay informed of public meetings and opportunities to provide input on Midpen's Wildland Fire Resiliency Program
Preparedness: Living Safely with Fire
Fire is a fact of life in California and everyone plays a role in living safely with it. More than 90% of wildland fires in the U.S. are caused accidentally by human activities according to the U.S. Department of Interior. You play a role by preventing wildland fire and protecting your home:
Harden your home against fire, create defensible space around it and have an evacuation plan (local fire safe councils have resources).
Sign up for county emergency alerts.
Enjoy open space wildlands safely by following smoking, campfire and firearm bans, as well as other public safety rules.
Be aware of red flag warning weather when fire danger is highest. Recreate safely so emergency resources are available to respond to fires: stay cool, bring plenty of water, or consider other plans.
Visit CAL FIRE's Ready for Wildfire website for more detailed information and resources.
Environment: Fire is a Natural Process
Fire plays a role in a healthy natural environment. Many of California native grasses, trees and wildflowers adapted over thousands of years to depend on periodic fire for their long-term survival. These include manzanitas and knobcone pines. Without fire, these plants and the wildlife that depend on them, are lost and replaced with nonnative and often invasive species. Native Americans in California intentionally set periodic fires on the landscape to ensure plenty of food, fiber and medicine.
Partners
Midpen staff work cooperatively with neighbors, fire agencies and regional fire safe councils on fire prevention and preparedness efforts. The California Department of Forestry and Fire Protection (CAL FIRE) is the agency our region responsible for fire suppression. CAL FIRE's role is supplemented by local fire departments (such as Palo Alto, Woodside Fire Protection District, and Santa Clara County) as well as by statewide mutual aid agreements for large wildland fire events.