Midpen preserves are located on lands that have been cared for by Indigenous people for many thousands of years. Throughout the San Francisco and Monterey Bay Area, thousands of people lived in about 60 small tribes and spoke several languages and dialects. Trade, intermarriage and cultural and religious exchange connected these people to each other and to other Native peoples farther away. The District's boundary includes at least 10 of these groups and at least three dialects.
In the late 1700s, during the Spanish Colonial period, religious leaders coerced and soldiers captured Native people from all over the Bay Area and the Central Valley into Mission San Francisco (Dolores), Mission Santa Clara, and other missions. In the mission system, people intermarried and, over the next 100 years during periods now understood as the Mexican era and California statehood, Indigenous peoples often protected themselves from settler persecution and violence by working as vaqueros (cowboys) and farm workers, blending in as Mexicans. In 2019, California Governor Gavin Newsom formally apologized for the systematic and state-directed violence toward Native peoples, calling the period a "genocide."  
Image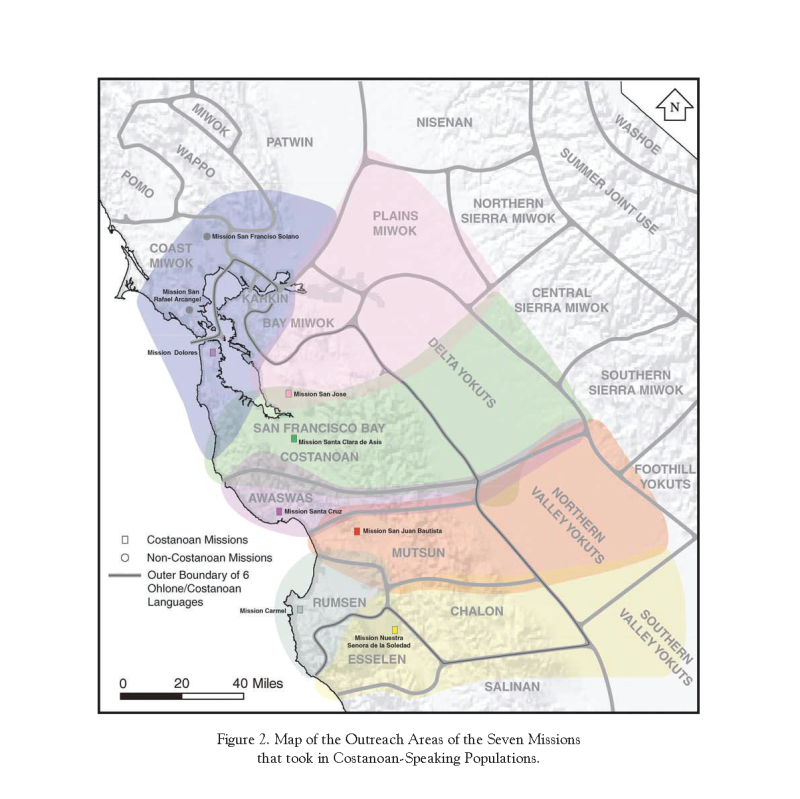 Today, within the District's jurisdictional boundary, there are 10 state-recognized tribes (as identified by the Native American Heritage Commission) that represent groups of individuals, families, or many hundreds of people in a tribal government and each has their own story to tell. Additionally, there are descendants who are not associated with a state-recognized tribe. The two largest tribes in the District's area are the Muwekma Ohlone Tribe of the San Francisco Bay Area and the Amah Mutsun Tribal Band, and both have petitions before the Bureau of Indian Affairs to clarify and reaffirm their previously recognized federal status, dating back to 1927 and earlier.  
Midpen works with descendant communities and tribes in many ways. Tribes are consulted on projects regarding cultural resources. At Mt. Umunhum, a mountain central to the Amah Mutsun creation story, a conservation easement ensures the tribe's right to practice ceremony at this sacred location. Access and gathering permits are available to descendants interested in reconnecting with the land. Joint archaeological studies with tribes can reconnect descendants with their ancestors and help Midpen protect those resources. Tribes are consulted each time Midpen undertakes environmental analysis pursuant to the California Environmental Quality Act.  
Land Acknowledgement
Midpen respectfully acknowledges that its open space preserves are part of the ancestral lands of the Ramaytush-, Tamien-, and Awaswas-speaking people from (north to south) Aramai, Chiguan, Lamchin, Cotegen, Puichon, Olpen, Tamien, Oljon, Partasci, Ritosci, Quiroste, Achistaca and Chaloctaca.  
Today these tribal groups are comprised of diverse descendant individuals, families, communities and tribal governments who all have their own stories to tell.  
We acknowledge and give our respect to the Indigenous peoples connected to and who have lived on this land past, present and future.
Learn from Indigenous Peoples
Native people are still here and we can and should learn directly from them. YouTube is a great way to hear their stories. Search for Ohlone or any of the tribal names above. There are also many people without websites and social media that have stories to share.