Temporary Closure of Lower Alpine Road Trail Begins August 28, 2023
A section of Alpine Road Trail between the lower Alpine Road Trailhead and Crazy Pete's Road will be closed to all public access beginning Monday, August 28, 2023. The trail is anticipated to reopen in winter, 2023.
Midpen is completing improvements to the Alpine Road Trail in partnership with San Mateo County. Work includes improving drainage and installing retaining walls to address erosion, stabilize the trail and ensure long-term public access. Read below to learn more about this larger project. 
Image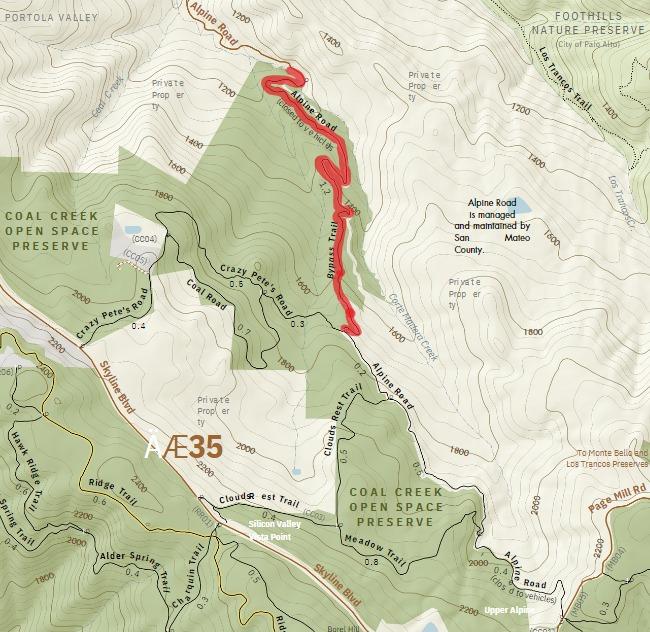 Alpine Road Trail is a San Mateo County dirt road that runs approximately 2.3 miles between the end of paved Alpine Road above Portola Valley to the north and Page Mill Road near Skyline Boulevard to the south. It provides a valuable regional trail connection between Midpen's South Skyline region preserves and trails down to Portola Valley and Woodside. Alpine Road Trail also travels partly through Midpen's Coal Creek Open Space Preserve. It is a popular hiking, cycling, and equestrian trail, connecting the valley floor to a vast trail network. 
San Mateo County owns the right-of-way across the entire Alpine Road Trail. Midpen owns only a portion within Coal Creek Preserve, with the remainder located on private lands. Midpen has an easement to travel over this portion of the road (that is closed to public vehicle use) and used the trail for patrol, maintenance, and emergency access.   
In the mid-1990s, a large landslide eliminated a portion of the road, and was no longer accessible to vehicles. Erosion events and culvert failures in 2013-14 and 2016-17 further degraded the roadbed and continues to contribute sediment into Corte Madera Creek.   
Image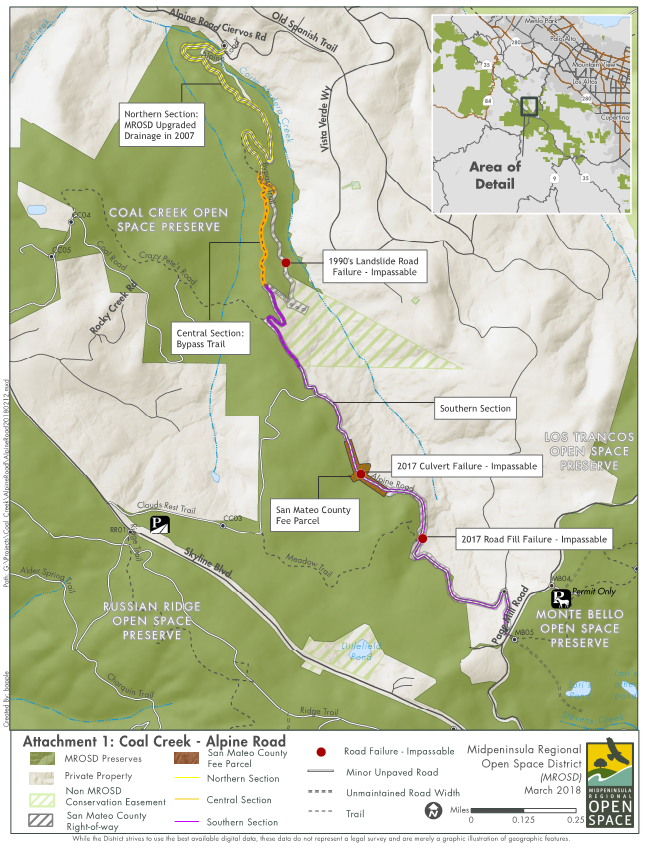 Corte Madera Creek is a tributary to San Francisquito Creek. San Francisquito Creek and its main tributaries are designated as critical steelhead trout habitat by the NOAA and listed as sediment-impaired under the Clean Water Act. Sediment deposited in the streambed can smother their spawning sites and impair their ability to migrate upstream. Additionally, Choris' popcorn flower and Western leatherwood, endemic to the San Francisco Bay Area, are both listed rare species by the California Native Plant Society. They depend on healthy riparian habitats and are threatened by erosion events. They are known to occur downstream at Searsville Lake and Russian Ridge Open Space Preserve. 
The Alpine Road Regional Trail Improvement Project was identified as a top 10 priority in Midpen's community-supported Vision Plan. The project addresses two large failures and improves surface drainage to prevent further road degradation and to protect Corte Madera Creek. The repaired trail will re-establish Alpine Road as a regional trail multi-use connection in some areas while retaining a drivable section for critical fire and emergency access. 
Phase 1 of project was completed from summer to fall of 2022. It involved repairing the southern portion of the dirt road to a 12-foot road width from Page Mill Road to Meadow Trail. From Meadow Trail to Portola Valley, it converted Alpine Road to a 6-foot-width trail. 
Phase 2 of the project will commence in August of 2023. A section of Alpine Road between the Bypass Trail and Crazy Pete's Road will be closed while Midpen is working on the lower Alpine Road retaining wall project. Two retaining walls will be built at this section to address erosion, drainage, trail bed stability and hillslope stability. The project will also repair erosion and a landslide that washed out a section of the Lower Alpine Road Trail during the winter 2023 storms.
Additionally, a new bypass trail with a more sustainable alignment will be constructed to replace the existing informal bypass trail. It will be approximately 2,500 linear feet long and four feet wide. During construction, the existing informal bypass trail will remain open. However in spring of 2024, when the new bypass trail has settled over the winter season and is ready to be used, the old informal bypass trail will be closed and allowed to naturalize. 
The Alpine Road trail improvement project is funded through the 2014 Measure AA open space bond.  Furthermore, this project is made possible in part by a generous $272,211 grant award from Santa Clara County in June 2022. We appreciate our partnership with the County to complete this important project.