The 79-acre Hawthorns area of Windy Hill Open Space Preserve was protected from development when it was gifted to the Midpeninsula Regional Open Space District in 2011. Since then, staff have been working to restore native grasslands, improve community wildland fire safety and protect historic features on the property. A multiyear public process began in 2021 to explore the feasibility of introducing ecologically sensitive public access to the undeveloped portion of the property.
Image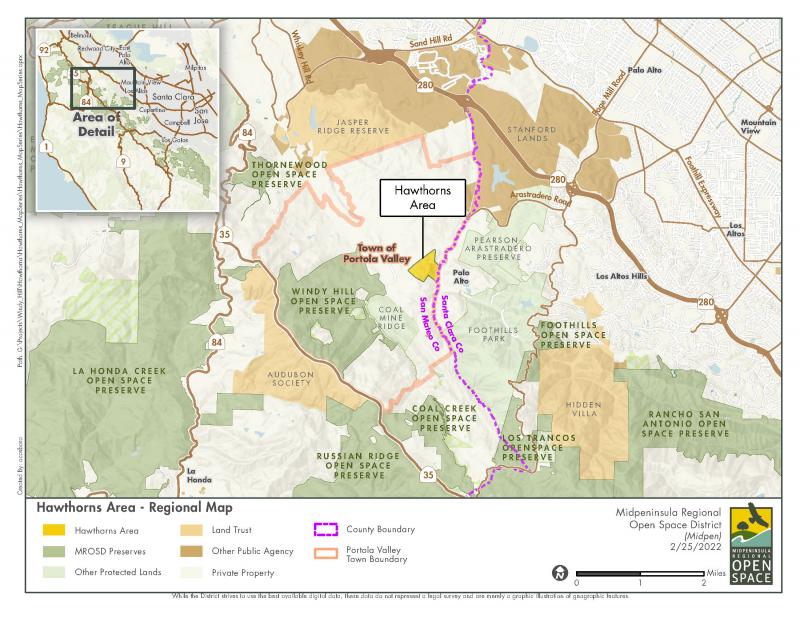 Fieldwork at the Hawthorns Area 
Midpen is conducting ongoing fieldwork and technical studies at the Hawthorns Area to document existing property conditions. Fieldwork may entail survey equipment, vehicles, and personnel within or around the Hawthorns Area. These activities will not result in any immediate improvements but will be used to inform future discussions regarding the location of public access facilities (such as parking areas and trails) within the Hawthorns Area. Please submit questions or inquiries using the comment card available below on this webpage.
There will be multiple opportunities throughout development of the Hawthorns Area Plan for public input. To stay informed, please sign up using the comment card below to receive updates. Additional information will be provided on this webpage as the project proceeds.
As a part of the Hawthorns Area Planning process, Midpen has collected many questions during our public engagement process. Click below to read the answers to these questions and to learn more about the Hawthorns project.