Image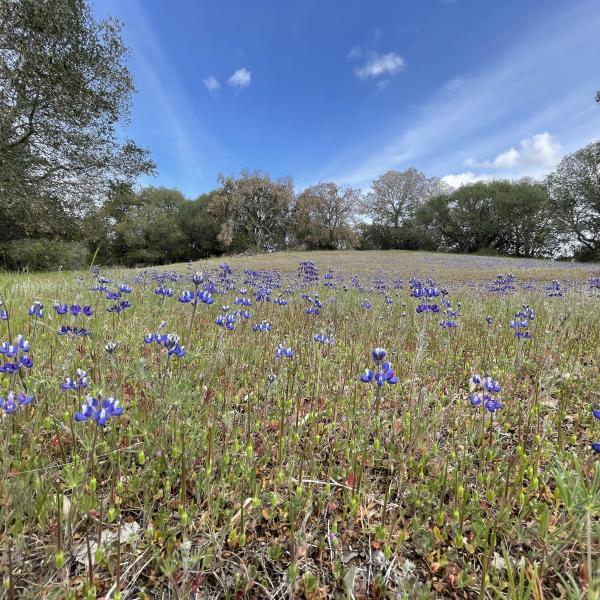 On June 28th 2023, the Hawthorns Area Public Access Working Group was officially formed by the Midpen Board of Directors to evaluate public access components.
Past Public Meeting Timeline
March 23, 2022
Public Meeting: Midpen board of directors reviewed and approved the vision and goals. (Staff report, meeting minutes) 
March 21, 2023
Public meeting: Deliverables from Existing Conditions phase and proposed Public Access Working Group composition and formation process presented to Planning & Natural Resources Committee. (Staff report, meeting minutes)  
April 26, 2023
Public meeting: Midpen board of directors approved deliverables for Existing Conditions phase and Public Access Working Group composition and formation process. (Staff report, presentation) 
The 79-acre Hawthorns area of Windy Hill Open Space Preserve was protected from development when it was gifted to the Midpeninsula Regional Open Space District in 2011. Since then, staff have been working to restore native grasslands, improve community wildland fire safety and protect historic features on the property. A multiyear public process began in 2021 to explore the feasibility of introducing ecologically sensitive public access to the undeveloped portion of the property.
Image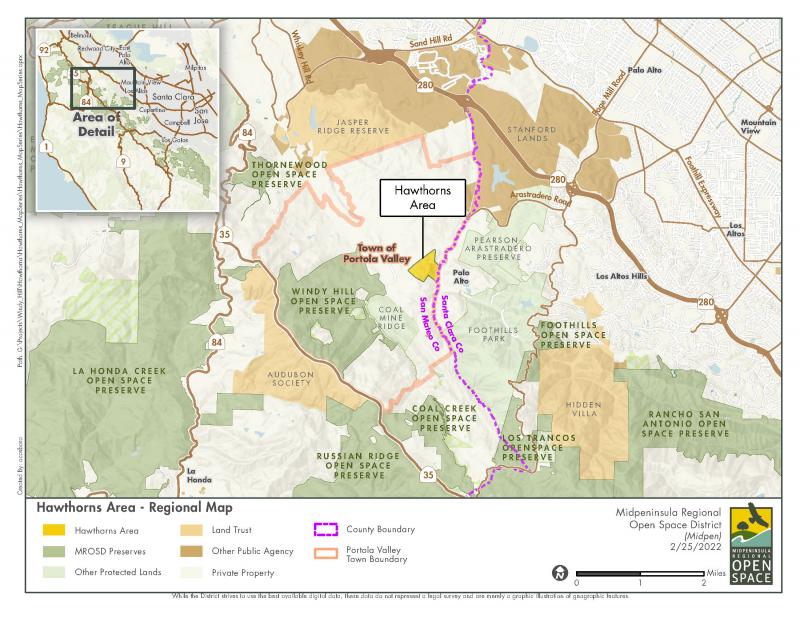 Project Vision and Goals
The Hawthorns Area offers picturesque views of rolling oak grasslands and the Santa Cruz Mountains, provides important wildlife refuge, and reflects the region's natural, agricultural, and social history. The District will protect and manage natural, scenic, cultural, and open space resources at the Hawthorns Area and provide ecologically sensitive public access consistent with the District's mission and the allowable uses outlined in the property's conservation easement.
Goals
Natural Resources

Protect and restore native habitat and manage for ecological resiliency of aquatic and terrestrial habitat, wildlife connectivity, and other natural resources.

Public Access

Open the Hawthorns Area to low-intensity public access, provide an internal trail system, and provide multi-modal access to the property.

Local and Regional Connectivity

Connect to adjacent public trails and explore opportunities for trail connections to regional open space lands. 

Natural and Cultural History

Interpret the rich natural, cultural, and historic features and pursue partnerships to manage the property's natural and cultural history.

Aesthetics

Highlight scenic viewpoints and design recreational amenities while protecting scenic viewsheds.

Operations and Maintenance

Manage the property for safe public access in a fiscally sustainable manner that promotes ongoing public support and appreciation with ongoing public engagement and consistent with the District's Good Neighbor Policy.
There will be multiple opportunities throughout development of the Hawthorns Area Plan for public input. To stay informed, please sign up using the comment card below to receive updates. Additional information will be provided on this webpage as the project proceeds.