Stevens Creek Shoreline Nature Study Area is a birders paradise. At this 55-acre bayfront preserve, located adjacent to Mountain View's Shoreline Park, visitors can view a wide variety of waterfowl and shorebirds, including black-necked stilts, mallards, snowy and great egrets, great blue herons, cormorants, and pintails. Though vastly different from historical conditions, many species now rely on the current unique ecosystem that has existed for more than a century.  The San Francisco Bay and its man-made ponds are a critical stopover along the Pacific Flyway, providing habitat for more than one million migrating waterbirds each year and for many resident breeding shorebirds including the federally protected western snowy plover.
Stevens Creek Shoreline Nature Study Area Restoration Project
The Stevens Creek Shoreline Nature Study Area (SCSNSA) is owned by the Midpeninsula Regional Open Space District (District) and located in unincorporated Santa Clara County adjacent to the city of Mountain View along the San Francisco Bay (Bay) shoreline between Stevens Creek and Moffett Field.  It functions as a contained, open water pond that is part of a larger stormwater retention basin for Moffett Field under the management of the National Aeronautics and Space Administration (NASA). The SCSNSA opportunistically provides habitat for breeding western snowy plovers (plovers) and allows for multiuse recreational opportunities along a levee-top segment of the Bay Trail.   
Image
There are currently several multi-agency initiatives to restore the San Francisco Bay to a more natural and resilient ecosystem capable of countering the effects of climate change and sea level rise.  Actions include converting retired salt evaporation ponds back to tidal marsh, refurbishing salt ponds to manage as intentional habitat for non-marsh species like breeding plovers, and reestablishing transition zones to provide high tide refuge habitat for marsh species like the salt marsh harvest mouse. 
The District has an opportunity to establish management priorities and plans for the SCSNSA to align with regional ecological productivity.  These priorities should incorporate site-specific objectives, ongoing bayfront restoration efforts for natural resources, partner and stakeholder input, and future public access opportunities. 
The project's main goal is to provide quality habitat for shorebirds to help balance resource needs throughout the bay which will have an overall net benefit by restoring more tidal marsh habitat and increasing climate resilience. 
Image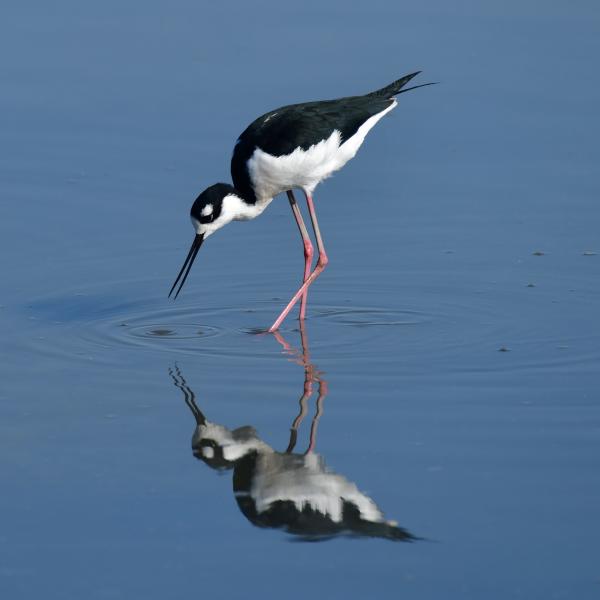 Project Restoration Goals
Salt ponds to tidal marsh

Curb sea level rise impacts

Shoreline resilience and protection

Carbon sequestration

Reconnection of creeks and sloughs

Native habitats and species