Image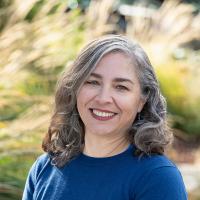 Ana María Ruiz is Midpen's general manager, overseeing the successful implementation of the organization's mission by more than 180 staff.
Preservation and stewardship of open space are lifelong passions for Ruiz, who began her career with Midpen as a planning technician in 1998. During two decades of ensuing hard work, she took on greater responsibilities and leadership roles within the organization. Rising through the ranks of planners, Ruiz became Midpen's planning department manager in 2009. She began honing her executive leadership skills as assistant general manager in 2013, and was appointed general manager by the board in June, 2018.
Ruiz is currently guiding the successful implementation of Midpen's Vision Plan funded in part by Measure AA, a $300 million bond passed by voters in 2014. This includes restructuring and expanding the organization to more efficiently and effectively deliver the public's priority open space projects.
Ruiz holds a bachelor's degree in geological and environmental sciences from Stanford University and a master's degree in urban planning from San Jose State University. She is a member of the American Institute of Certified Planners, and recently completed Stanford University's Local Governance Summer Institute.
She lives in Mountain View with her family.
Read the press release on Ruiz's appointment to general manager