In February, we invited you to write a love letter to express your appreciation for the 65,000 acres of public open space lands that our community had the foresight to begin protecting 50 years ago. Here's what some of you said you cherished most about having access to nature, including some special memories you've made in the Santa Cruz Mountain greenbelt.
Image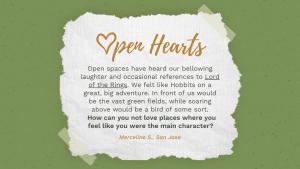 Image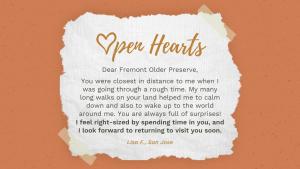 Image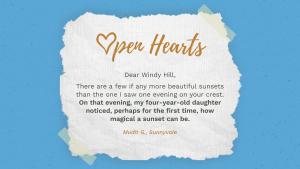 Image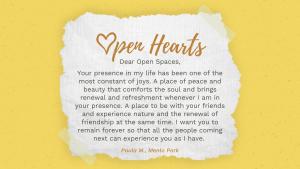 Image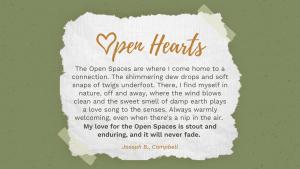 Image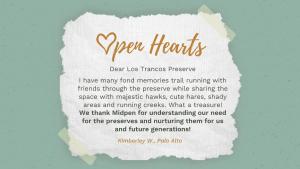 Image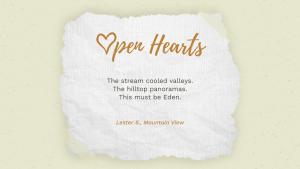 Image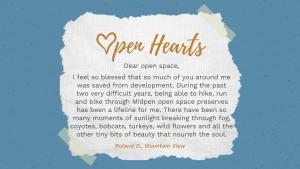 Image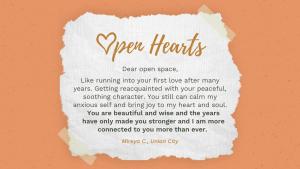 Image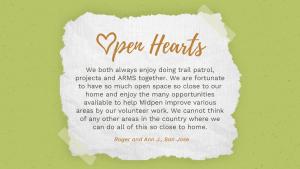 Image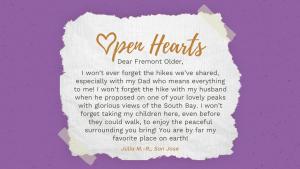 Image
By participating in the Open Hearts love letter social activation, you agree that any information you provide is accurate and complete at the time provided. In particular, you represent that you are 18 years of age or older.
By submitting information to Midpeninsula Regional Open Space District ("Midpen") as part of Open Hearts, you accept and agree to the following Terms and Conditions for User-Generated Content: 
Use of Your Content: By submitting or uploading your story, comment, and/or information ("Your Content") through our online Open Hearts form, you are granting Midpen a worldwide, non-exclusive, royalty-free, irrevocable license that authorizes Midpen to use, publish, and otherwise reproduce, modify, and distribute Your Content with or without your name in perpetuity in any and all Midpen related media for any lawful purpose. These uses may include, but are not limited to, information, education, promotion or advertising of Midpen or its programs and projects via the Internet, web sites, social media, publications, exhibits, and other applications as deemed appropriate by Midpen staff. Midpen reserves the right to curate, edit, and use Your Content in its sole discretion. Midpen staff will strive to properly credit you for your work but will not be liable for any errors in attribution other than to make reasonable efforts to correct such errors.
Submissions to Open Hearts: Any material you submit to our page by upload, or otherwise, including any data, questions, comments, ideas, suggestions, or the like will be treated as non-confidential and non-proprietary. Anything you submit or post becomes the property of Midpen and Midpen may use and reproduce Your Content freely, and for any purpose. Any such use is without compensation to you. By making a submission, you are also warranting that you own the material/content submitted and that Midpen's use will not violate any third party's rights or otherwise place us in breach of any applicable laws. Midpen is under no obligation to use any or all of the information submitted.
Waiver and Release of Liability: You hereby release and forever discharge, agree to hold harmless, and covenant not to sue Midpen, its Board of Directors, officers, employees, agents, and representatives from any claims, including all liabilities, actions, damages, costs, or expenses of any kind arising out of or relating to your participation in the Open Hearts social activation.
Changes to Terms and Conditions for Open Hearts: We reserve the right to modify or terminate any Midpen-owned website or service therein for any reason, and without notice, without liability to you or any third party. We also reserve the right to modify these Terms and Conditions from time to time without notice. You are responsible for regularly reviewing these Terms and Conditions so that you will be apprised of any changes. 
In addition to these Terms and Conditions for User-Generated Content, you agree to be bound by Midpen's standard Terms of Use & Privacy for its website.