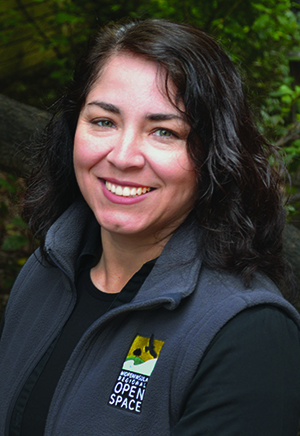 Nature is one of our best teachers, showing us how all living things are part of a larger community. For example, in the preserves this winter you may observe bees feeding on the nectar of blooming manzanita, which in turn depends on the bees' buzzing vibration for pollination to produce seeds and regenerate.
Here at Midpen, we also depend on the contributions of our broad community to protect, restore and connect people to our natural ecosystem. Our community includes people from many different backgrounds and walks of life with diverse talents and expertise, who share common values around natural open space lands.
Our more than 110 volunteer docent naturalists and nature center hosts are working professionals and retirees who dedicate thousands of hours annually, enriching visitors' experiences with greater knowledge and appreciation of our surrounding natural and cultural history. Recent staff additions to our Interpretation and Education Program are allowing us to expand our programs and engage even more people, including the next generation of environmental stewards.
Our more than 450 resource management, trail patrol and special project volunteers are hardworking seniors, scouts, school and community groups, corporate employees and supporters dedicated to making public open space preserves healthy and accessible.
Mutually beneficial partnerships with a variety of local organizations are also critical to fulfilling our mission and creating a more resilient and thriving region that benefits people, plants and animals. They include our long-standing land acquisition and funding partner POST, local fire departments, scientific researchers, youth conservation corps and a host of regional trail partners.
Our new grant-giving program, launched in 2019, is connecting us with new partners doing exciting and beneficial projects for the open space community. Through this work, we are supporting hands-on environmental education programs for students from low-income Bay Area schools and scientific studies on French broom impacts to native plant pollination and on the historic composition of bird nests that will inform our restoration work.
This holiday season, we extend our enduring gratitude for your support, and the many hands, hearts and minds working together as an open space community to successfully further Midpen's mission.
With much appreciation,

Ana María Ruiz
General Manager