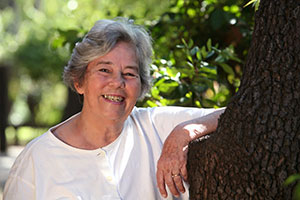 A native of San Mateo and Burlingame, Nonette Hanko has been a Palo Alto resident since 1951. In 1970, Nonette, along with a handful of key open space preservation proponents, spearheaded a two county initiative to form the Midpeninsula Regional Open Space District.
Nonette served on the elected Board of Directors, representing Ward 5 since Midpen was founded in 1972 until her retirement in December 2018. She served six terms as President and is the only Board member to have served two of these terms consecutively. In addition to her service as a Board member, Nonette was also appointed to the 2020 Task Force of Santa Clara County, which recommended that a new south county open space agency be formed to complete a ring of agencies circling the San Francisco Bay.
Over the last decade, Nonette has been recognized for her preservation efforts and has been featured as one of the living visionaries of Bay Area open space in photographer/author Galen Rowell's book Bay Area Wild, received the World of Out of Doors Award from the Girl Scouts in Santa Clara County, and received the prestigious "Creators of the Legacy" honor as part of the Palo Alto Centennial.
Nonette Hanko is an environmental pioneer. We recognize the trails she blazed that shape our region. The undeveloped open spaces surrounding our communities, from the baylands to the foothills and forested mountains, exist in large part because of the vision and vigilance of Nonette and her fellow conservationists.
Bay Nature 2022 Conservation Action Award
Each year the Bay Nature Institute board and staff select remarkable individuals to receive a Local Hero Award in recognition of outstanding work on behalf of the natural world of the San Francisco Bay Area. In 2022, Nonette Hanko received the Conservation Action Hero award.