Climate change is a direct threat to Midpen's mission to acquire and preserve a regional greenbelt of open space land in perpetuity. Now and in the future, climate change has wide-reaching consequences for the Bay Area's natural environment and the people who depend on it. Greenhouse gases released from burning fossil fuels for transportation and energy are changing our climate. As a result, we are already seeing warmer temperatures, changes to plant and animal habitat ranges, more intense wildfires, sea level rise, and more frequent droughts and floods.
On October 10, 2018, the Midpen Board of Directors adopted a Climate Action Plan to minimize the impact our operations as an agency have on the climate, our community, and the surrounding natural environment. Midpen is seizing the opportunity to lead by example and be part of the solution. From the energy we use, to which lands we preserve, to how we manage open space, this Climate Action Plan is our roadmap to meeting aggressive voluntary greenhouse gas reduction goals.
REDUCING GREENHOUSE GAS EMISSIONS
The Climate Action Plan serves as a roadmap to achieve Midpen's ambitious voluntary climate change goals. Midpen aims to reduce greenhouse gas (GHG) emissions from operating District preserves and offices 20% by 2022, 40% by 2030 and 80% by 2050, in line with commitments by the State of California and the Paris Climate Agreement. The Climate Action Plan identifies changes the agency can make to achieve these goals by improving fuel efficiency, increasing electric and alternative fuel vehicles, reducing drive-alone commuting, transitioning to 100% renewable electricity, improving energy efficiency, reducing solid waste, and increasing carbon sequestration in preserve lands. It is our hope that by taking steps to reduce GHG emissions internally, Midpen can draw attention to this critical issue, catalyze GHG reduction in our resident community and the broader environmental community, and contribute to local, state, and global progress on stabilizing the climate and protecting life in all its forms.
Climate Action Strategies
Midpen will pursue the following climate action strategies to reach our GHG reduction goals: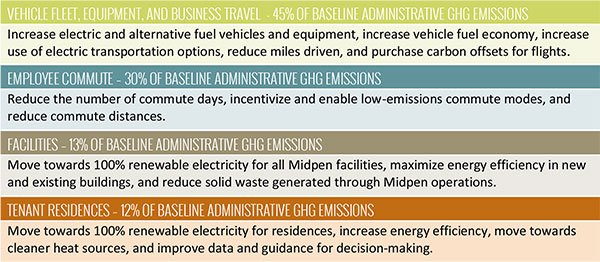 RESILIENT LANDSCAPES
The next area of focus for Midpen's Climate Change Program will be assessing the expected impacts of climate change and opportunities to protect the plants, wildlife, and other natural resources in Open Space Preserves. Continuing to acquire and restore open space lands that store carbon and provide a variety of habitat options as the climate changes is a critical way that Midpen fosters climate resiliency.
DO YOUR PART TO FIGHT CLIMATE CHANGE
Follow our lead and take steps to reduce your own contributions to climate change. Driving less, buying clean energy, and consuming less resources and products are some of the most impactful actions you can take. Start today by calculating your carbon footprint and getting customized strategies using UC Berkeley's Cool Climate Calculator.
CONTACT
For questions or comments regarding the Climate Change Program, contact project manager Hayley Edmonston.