Cooley Landing Park is located on a peninsula at the eastern end of Bay Road in the City of East Palo Alto. Operated by the City, the park was created in partnership with the District which owns portions of the peninsula as part of Ravenswood Open Space Preserve To the south lies the Palo Alto Baylands Nature Preserve, known for the highest concentration of the endangered Ridgeway's Rail in the world.
Cooley Landing Education Center

The City of East Palo Alto is seeking an Operator and Partners for the Education Center to deliver state-of-the-art, community-accessible education and interpretive programs in an economically sustainable and environmentally sensitive manner to ensure the Center's long-term viability.
Background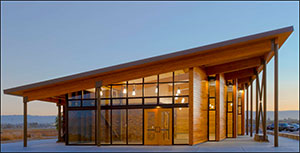 Cooley Landing Park opened to the public in July 2012. Final park improvements, including an outdoor classroom, secondary trails, and lighting, are expected to be complete in late 2019.
Cooley Landing Education Center is located within the park and opened to the public in April 2015. The 3,900 square foot facility was designed by Fog Studio and is equipped with a warming kitchen, a small office, restrooms, water fountains, general storage, and projection capabilities for presentations. The facility is currently being utilized for rentals and is configured as a multi-function community room with exhibits that reflect the City's history and culture. For booking information contact the City of East Palo Alto at 650-853-3100.
Project Timeline
Phase IV: Interpretive site improvements around the Education Center.
Estimated completion in 2019
Phase III: Construction of the Education Center which will serve as a place for community meetings, and as an institution which preserves and enhances the area's cultural heritage, history, and traditions; identifying a partner to operate and manage the center.
Completed in September 2015
Phase II: Installing utilities, improving the access road, and installing native planting.
Completed in February 2014
Phase I: Site remediation, trail access, road improvements, some parking, benches, and a picnic area.
Completed October 2012
More Information
Visit the East Palo Alto's Cooley Landing Project page, or contact Emily Pharr, Cooley Landing Project Manager.