Location | Current Progress | Red Barn | Public Input | Master Plan | Timeline | E-mail List
Information about the Red Barn Visitor Area
Location

The 6,142-acre La Honda Creek Open Space Preserve consists of working ranch land, grasslands, and forests near the town of La Honda. In 2012, after a public participation process, the District completed a 30-year use and management Master Plan whose goals are to balance the preservation of viable agriculture, cultural history, and the natural environment with public education and low-intensity recreation.
Sign up to receive project updates
Current Progress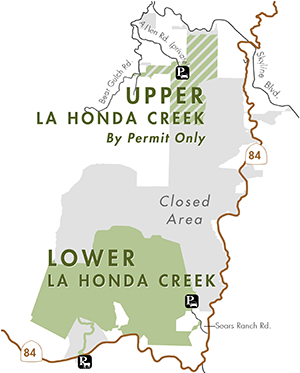 Public access is currently available in two unconnected parts of the Preserve.
Upper La Honda Creek features 3.5 miles of shorter sections of trail through forest and redwoods. Due to parking limitations, a no-fee permit is required for access to Upper La Honda Creek.
Lower La Honda Creek offers 6 miles of trail through open rolling grasslands. Trails run through an active grazing operation, and visitors may encounter cattle and ranchers. A no-fee permit is required for equestrian parking at the Event Center; all other visitors park at the Sears Ranch Road lot.
In December 2017, La Honda Creek opened for the first phase of public access. New features include: six miles of trail for hiking and horseback riding, a 20-space parking area, trailhead and vault toilet.
Red Barn Visitor Area
Located along Highway 84, the iconic Red Barn is the site of future parking and trail access into the Preserve. A conceptual design for the Red Barn visitor area has been developed through a public process beginning in fall 2016. The proposed conceptual design aims to balance the public access improvements with the scenic, ecological, historic, and grazing resources present on site.The project will enable passive recreation including hiking, mountain biking, horseback riding, picnicking and wildlife viewing. The area will include a parking lot, picnic areas, trail and educational signage. As part of this development, new trails will be constructed and opened to the public. Trails from the Red Barn Parking area will offer varying distance and difficulty as well as trail connections to the Allen Road and Sears Ranch Road staging areas located at the northern and southern extents of the property, respectively.
Find out more about the Red Barn Visitor Area
Opportunities for Public Input
Upcoming Public Meetings
June 12, 2018 - 6:30 pm
La Honda Elementary School
The Midpen board is scheduled to vote on accepting the Red Barn visitor area conceptual design, allowing the District to begin the environmental review process which will continue to provide public input opportunities.
Sign up below to join the email list for future public meetings and project updates.
Master Plan
The La Honda Creek Master Plan includes:
Creating over nine miles of new multi-use trails (including bicycles) and over 16 miles of new hiking and equestrian trails;
Implementing extensive resource management projects to improve wildlife habitat, restore creeks, and reduce wildfire risk;
Reintroducing cattle grazing to the northern portion of the Preserve, including the Red Barn area.
The Master Plan establishes a long-term vision for the Preserve to guide future decisions affecting use and management of the land for the next 30 years. The Master Plan is scheduled to be implemented in four phases over the next 30 years. Proposed actions are prioritized based on their relative importance, critical need, and sequencing (when certain projects must precede others) to implement the District's vision for the Preserve.
Project Timeline
Aug 2012
Master Plan Finalized: The Board certified the environmental documents and approved the Master Plan.
2012-2017
Phase I Implementation: Phase I trails and Sears Ranch parking area. High-priority water quality protection projects, wildfire response plan, initiate Red Barn site plan.
Dec 2017
Lower La Honda Creek opens to public access
2018-2022
Complete Red Barn Site Plan and environmental review
Phase II Implementation: Trail connections, creek restoration, parking areas, bridge replacement.
2023-2032
Phase III Implementation (tentative)
2033-2042
Phase IV Implementation (tentative)