Goals | Features | Funding | Timeline | Reports | Email List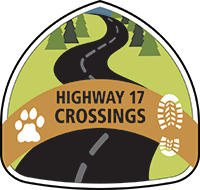 Highways connect us, but also divide the land and create barriers to safe passage for both wildlife and outdoor enthusiasts. Highway 17 has fragmented thousands of acres of open space in the Santa Cruz Mountains, limiting the ability of wildlife to find food, mates and habitat, and blocking several regional trail connections.
Midpen is currently developing wildlife and regional trail crossings across Highway 17 to connect over 30,000 acres of protected public lands. While wildlife and trail crossings share the same goal, animals and humans have unique needs and use crossings in different ways. To meet the needs of both, two separate structures are recommended.
Join our email list to receive project updates
Project Goals
Link over 30,000 acres of habitat and protected public lands on either side of Highway 17 including Midpen preserves (El Sereno, St Joseph's Hill, Bear Creek Redwoods) as well as Santa Clara County Parks (Lexington, Sanborn, and Almaden Quicksilver).
Improve motorist safety by reducing the potential for collisions with wildlife (and recreational users).
Maintain healthy wildlife populations.
Provide for safe movement of wildlife and recreational trail users across Highway 17.
Connect over 50 miles of existing regional trails—Bay Area Ridge Trail and Juan Bautista De Anza National Historic Trail
Features
This project includes the development of a wildlife undercrossing, a trail overcrossing and new connecting recreational trails. During an extensive three-year process, Midpen worked together with project stakeholders, partner agencies and the public to develop and evaluate potential crossing locations and trail connections.
Highway Crossings
The following locations are currently under review for crossings: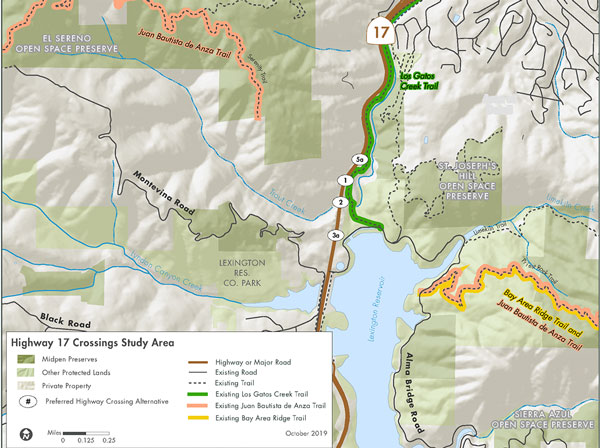 Wildlife undercrossing at Ravine Culvert (1)
From an opening in a steep-walled canyon on the west side of the highway, a crossing under the road would emerge on the east side of the highway near a retaining wall along the Los Gatos Creek Trail.
Wildlife undercrossing at Trout Creek (2)
From an opening on the west side of the highway at Trout Creek, a crossing under the road would emerge on the east side of the highway on an embankment above the Los Gatos Creek Trail. Mountain lions, deer and other wildlife frequently attempt to cross at this location, often unsuccessfully.
Trail overcrossing south of Trout Creek Canyon (3a)
From a level area above the west side of the highway a traditional recreational trail bridge would connect to a wide landing area on the east side of the highway that could be connected to the existing Los Gatos Creek trail.
Trail overcrossing north of Trout Creek Canyon (5a)
From a level area above the west side of the highway, a traditional recreational trail bridge would connect to the east side of the highway.
Following environmental review, one wildlife undercrossing and one trail overcrossing location will be chosen for design and development.
Trail Connections
Currently under environmental review are 6 to 9 miles of conceptual trail connections to the proposed trail crossings. These conceptual trail routes connect the proposed trail crossings to the surrounding trail network in open space lands such as Bear Creek Redwoods, El Sereno, St. Joseph's Hill, and Sierra Azul Preserves, as well as Lexington and Sanborn County Parks. Once the trail overcrossing location is selected following environmental review, connecting trail segments will also be selected to serve that crossing. When completed, these new trail connections will link roughly 50 miles of the existing Bay Area Ridge Trail and roughly 22 miles of the Juan Bautista de Anza Trail, closing a trails gap from Russian Ridge Preserve to Almaden Quicksilver County Park.
Why Wildlife Crossings Matter
Well-placed and appropriately designed wildlife crossings enable wide-ranging animals like mountain lions to roam and help reduce wildlife-vehicle collisions. The Highway 17 wildlife crossing project is one of many local efforts to create connections across the Santa Cruz Mountains, Gabilan and Diablo Ranges.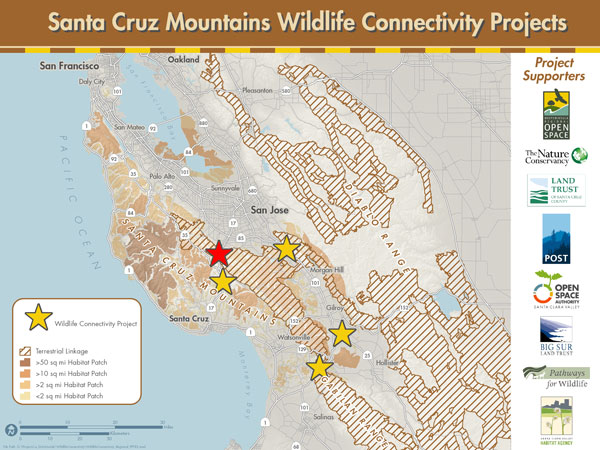 Midpen recently celebrated Wildlife Crossings Week with the National Wildlife Federation. Hear our project managers share information on our project and how it fits in with many related projects in the area.
Midpen supports effort to protect mountain lions

Midpen's nearly 65,000 acres of preserved public open space provide prime habitat for mountain lions, a top predator in our region facing many challenges in our region. In April, the California Fish and Game Commission voted 5-0 to consider Southern California and Central Coast mountain lions for listing under the state's Endangered Species Act. A year-long review by the CDFW will determine if six geographic populations of mountain lions, including those in the Santa Cruz Mountains, should be designated as threatened or endangered.

We're working to protect regional mountain lion populations by preserving habitat, increasing habitat connectivity through this wildlife crossing project, promoting rodenticide regulations and supporting research that improves our understanding of lion populations, ecology and behavior throughout our region of influence.
Funding

The Highway 17 crossings project was ranked as a Top 25 Priority in our 2014 Vision Plan. Partial funding of $16 million of voter-approved Measure AA funds has been allocated to the project. While regional connecting trails were also identified as a high priority, trail connections to the crossing will require funding through other means. Midpen is leading this locally, regionally and nationally important project and will collaborate with many partners and stakeholders to fund this work.
The California Wildlife Conservation Board recently awarded a $5 million grant to Midpen to help fund development of designs and environmental documentation for this project. These WCB grant funds come from a combination of sources including the Habitat Conservation Fund and bond measures approved by voters to help preserve and protect California's natural resources.
Project Timeline
2016 - 2018
Feasibility study and revised alternatives report
2018 - 2019
Caltrans Project Study Report
Regional Trails Connection Study
2020 - 2023
Environmental review and Caltrans Project Report
Current status: Midpen preparation of Project Approval and Environmental Document (PA&ED) underway
2022 - 2024
Design (plans and specifications)
2025 and beyond
Construction (funding dependent)
Key Partners and Regional Stakeholders
This project requires a high level of coordination and partnership. Partners in this project may include:
Midpen is continually devloping additional partnerships and working with stakeholders to grow this list as the project develops.
Reports and Documentation
Email List