Paper maps are currently not available at preserves. Please download a map before leaving home or snap a photo of the signboard map before you hike. The apps below provide a way to bring a digital map along on your adventures.
GEOPDF MAPS
All Midpen trail maps are in GeoPDF format, so you can download preserve maps and use them with an app on your mobile device. GeoPDFs have map coordinates embedded in them so that you can view your location on the map and even track your route. Because they work using your device's GPS signal, you can continue to use them when you don't have cell coverage.
You can access these GeoPDF maps using the Avenza Maps app, OuterSpatial app or other GeoPDF readers.
---
Avenza Maps App
Midpen maps can be downloaded for free from within the FREE Avenza Maps app or from the preserve pages on our website. Avenza Maps allows you to view maps offline, see your location on the map, plot placemarks and photo locations, and measure distance.
The blue dot and crosshair shows your location.
Drop placemarks and add photos at your location.
Tap GPS button to view your current location. Tap placemark button to drop a pin.
Use tools to record GPS tracks, find coordinates, add geotagged photos and more.
---
OuterSpatial App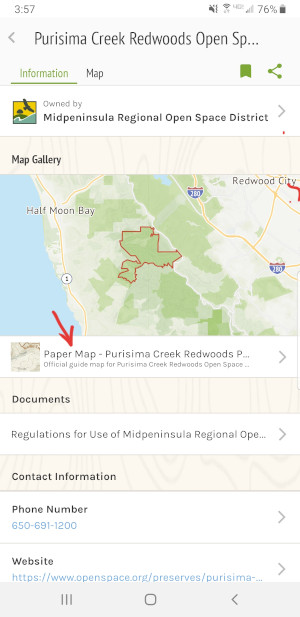 Access Midpen preserve maps and information in the palm of your hand with the FREE OuterSpatial app. Follow the map instructions below to find locate yourself on the map while you are out on the trail, even when you are offline. OuterSpatial also provides access to maps and info from many other park agencies in our region and beyond. Download it today!
A little bit of set up is necessary before you're at the preserve to make sure you have the map you need while out on the trail, when cell coverage is often not available:
Download and open the OuterSpatial app on your phone or tablet
Use the search icon at the upper right hand side of the screen to find the preserve or trail that you want to visit.
Click on the selected preserve, trail or outing tile.
Bookmark the location to save it for when you're offline at the preserve.
You can even download an official Midpen map as an overlay. When you're at the preserve just re-open the map and click the arrow button (upper-right). The app will use GPS to center the map on your location, shown as a blue dot which works even when you do not have cell coverage or wifi.