Midpen trail maps are now available in GeoPDF® format. You can download our maps as a PDF to use on your mobile device! Use the FREE Avenza Maps app to find your location as you enjoy over 225 miles of trail on Midpen-managed preserves. Even without cell service the maps will continue to work using your phone's GPS signal. Maps can be downloaded for free from within the app or from the preserve pages on our website, and will work with any GeoPDF reader.
View maps offline, without a cell signal or wi-fi
See your location on the map
Plot placemarks and photo locations
Measure distance
Please note: Digital GeoPDF maps are NOT a replacement for a printed hardcopy map. Do NOT rely solely on a mobile device when visiting the preserves. We highly recommend you pick up the printed version at the trailhead or print a copy at home.

Download Avenza Maps app to your smartphone or tablet. We suggest you download the app and trail maps where you have access to wi-fi or cellular network BEFORE your visit.

Find Yourself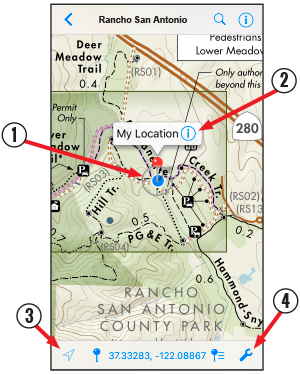 1. The blue dot and crosshair shows your location
2. Drop placemarks and add photos at your location
3. Tap GPS button to view your current location. Tap placemark button to drop a pin.
4. Use tools to record GPS tracks, find coordinates, add geotagged photos, and more.