In recognition of her significant contributions to the conservation of the natural landscapes of the San Francisco Bay Area, the Bay Nature Institute has named Nonette Hanko — "the founding mother of Midpen" — as their Conservation Action Local Hero of 2022. This honor is especially appropriate as we prepare to celebrate Midpen's 50th Anniversary in 2022. In 1970, Nonette helped spearhead a two-county initiative to form the Midpeninsula Regional Open Space District and then served on the board from 1972-2018, including six terms as president.
Nonette also helped create our sister organizations Peninsula Open Space Trust and Santa Clara Valley Open Space Authority, which together with Midpen play a vital role in Bay Area land conservation. The undeveloped open spaces surrounding many of our communities, from the baylands to the foothills and forested mountains, exist in large part because of Nonette and her fellow conservationists.
Celebrating Nonette Hanko's Journey as a Founding Mother of Midpen
From Open Space Views - Winter 2018
Every great idea has a humble beginning. A towering redwood emerges from a tiny seed. Learning Chopin on the piano starts with a single note. And the creation of the Midpeninsula Regional Open Space District began with a meeting in Nonette Hanko's Palo Alto living room. As Hanko prepares to retire in January after spearheading the formation of Midpen and serving 46 consecutive years on its board, we are celebrating her legacy as a champion of open space.
Hanko was born and raised on the Peninsula where a love of music and time spent in nature shaped her childhood. An aspiring concert pianist, she studied music at San Francisco State University before marrying her husband Robert. They moved to Palo Alto in 1950 and had four children whom Hanko felt did not have the same opportunities to connect with nature she had enjoyed as a child.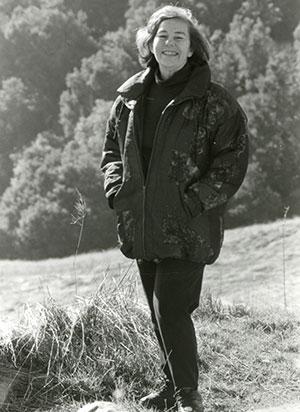 In the late 1960s, a recall of Palo Alto City Council members and Stanford University's proposed development of Coyote Hill began drawing Hanko out to public meetings. Palo Alto Times reporter Jay Thorwaldson published an editorial on February 16, 1970 stating that if conservationists really wanted to preserve land on the rapidly developing Peninsula, they should create a public agency capable of acquiring it as had been done in the East Bay. After reading it, Hanko cried herself to sleep and awoke the next morning inspired to take action.
She planned a meeting at her house, inviting everyone she knew that might be able to help create a local park district. Over homemade blueberry coffeecake, Hanko galvanized a movement that has shaped our region. She remained the consistent force behind putting Measure R on Santa Clara County's ballot in 1972, allowing voters to create Midpen. We sat down with Hanko in her Palo Alto living room where it all began to talk about her journey bringing the organization from a great idea to nearly 65,000 acres of public open space – and growing.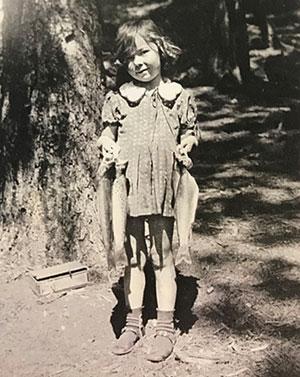 How was your interest in nature sparked?
My parents took us camping in the Sierras every summer, except during the war when there wasn't enough gas. I liked going out to explore in the woods. Near our house in Burlingame, I would go to Mills Estate and enjoy the quiet and wildlife.
Why did you want to create Midpen?
I'd lost the wild places I had as a little girl. In Palo Alto there were NO TRESPASSING signs all the way to Skyline. Coyote Hill was one of the few places I could go and hear nothing but bird song. That's what I was looking for all the time. When Jay's editorial came out, I took it seriously. I said to myself, here's an idea that could be used, why not? The first meeting I held at my house I invited someone from East Bay Regional Parks and we all had a wonderful talk. They helped us get started.
What motivated you to continue for 46 years?
It's a dream come true, being able to do something about saving our open spaces for people and animals. There is still land that needs to be acquired and trails we need to connect. When you're building something important, and we're still building it, you never lose that joy.
What is your hope for the future?
That the work continues. And that others are encouraged to do the same. There's a great law in California's public resources code that enabled us to create Midpen. It should be used more as a way for people to save their open spaces.
What wisdom do you have to leave with us?
Don't give up. And let your friends and relatives know about these special places. Take them out so they can enjoy the beautiful lands we've acquired for the public good.
Image