Image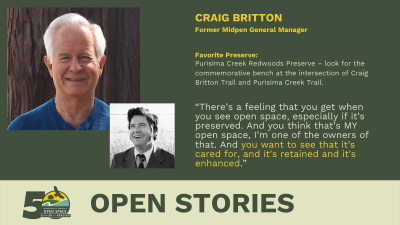 Much of the land protected by Midpen can be attributed to the efforts of former General Manager Craig Britton. After joining Midpen in 1977 as land acquisition manager, Britton was promoted to assistant general manager in 1979 and served as the District's second general manager from 1994 until his retirement in 2008. During his time at Midpen, the District grew from just eight preserves to the 26 we now own and manage!
Imagining a scenic corridor along Skyline Boulevard, Britton led Midpen in connecting a greenbelt of open space preserves in the Santa Cruz Mountain region. He liked to be in the thick of things and his favorite memories are of the tough negotiations, where he could find a bargain price or leverage grant funding for a purchase. "Some of the toughest negotiations were not the external one, but internal ones," he remembers, "to decide that [a property] had a high enough priority and a need as we looked at a whole network of trail connections and habitat values."  
Britton also led Midpen to work with the local Coastside community to extend the district boundaries to the San Mateo County coast in 2004. The Coastside Protection Area has now protected over 11,000 acres of natural and agricultural lands that contribute to the area's rural identity, natural beauty and quality of life.
"The natural world is what sustains us," Britton, reflecting on his time at Midpen, said. "Even if you never step foot on the land, there's a feeling that you get when you see open space, especially if it's preserved. And you think 'that's my open space, I'm one of the owners of that.' And you want to see that it's cared for and it's retained and it's enhanced."